Nadaskys attend dinner party for golden milestone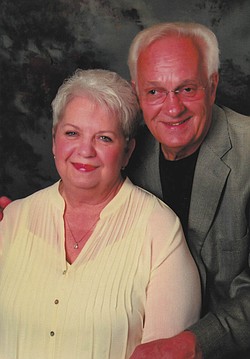 Photo
BERLIN CENTER
Tom and Alice Nadasky of Berlin Center celebrated their 50th wedding anniversary on April 13 with family and friends at A La Cart Catering in Canfield.
Mr. Nadasky and the former Alice Kopachy were married April 11, 1964, at Our Lady of Hungary Church. They have three children: Tom Jr. (Suzanne) Nadasky of Newton Falls; David (Sue) Nadasky of Garfield Heights, Ohio; and Theresa Nadasky of Ellsworth. They also have two grandchildren, Lyric and Logan Nadasky.
Mrs. Nadasky was a floral designer and a homemaker. Mr. Nadasky worked at Youngstown Steel Door for 20 years and retired from Delphi Packard in 2003 after 19 years as a design engineer. They are members of Our Lady of the Lakes Parish.