HAPPY 90TH BIRTHDAY || Eugene Pyne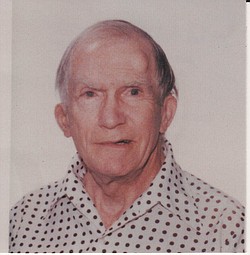 Photo
HONOREE
Residence: Liberty
Date of birth: June 9, 1924, in Dubois, Pa.
FAMILY
Parents: Maurice and Dorothy (Hand) Pyne
Siblings: Geraldine Whitmore and Al and Robert Pyne
Spouse: The former Mary Markovich, whom he married Dec. 9, 1969, at St. Columba Cathedral.
BACKGROUND
Education: Graduate of Sharon High School and in his 60s he took enough art and photography courses to equal a major in art at Youngstown State University.
Employment: He worked for Westinghouse in Sharon for 41 years.
Memberships: He is a member of First United Methodist Church in Sharon and three Masonic groups, and he received two 50-year pins in two Masonic groups. He also is a member of Youngstown Photographic Society, where he served as past president; 20/9 Radio Club; Academy of Model Aeronautics; Flying Aeros; National Rifle Association; and the Roundtable Woodcarvers Club.
ADDITIONAL INTERESTS
Other information: He loves to dance, camp, travel, carve wood, fly model airplanes and take photos. He won many photography awards. In his 70s he became a ham radio operator and achieved the highest rank possible in a short time. In his 80s he learned to fly radio controlled airplanes with the help of his teacher, John White. He's looking forward to a new adventure in his 90s.
CELEBRATIONS
Dates and locations: He was to celebrate at three small parties Saturday, today and Monday.