At 90, Harry Meshel likely area's most successful politician alive today
YOUNGSTOWN
Harry Meshel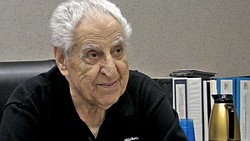 Video Set
After Harry Meshel earned a master's degree in 1950 from Columbia University in urban land economics, he was sure he'd get a job as a mortgage banker.
But Meshel couldn't even get hired as a check runner for a local bank.
So Meshel spent the next decade working at a number of jobs he didn't like. It was not until 1960 that Meshel said he thought about politics, he said.
"I had a master's degree and couldn't find the right job," he said. "I went into politics to give help to people who were in similar situations."
Meshel, who will turn 90 Friday, likely is the Mahoning Valley's most accomplished politician still alive today.
He spent more than 22 years in the Ohio Senate, most of it in leadership including president for two years, minority leader for eight years, and eight years as chairman of the powerful Finance Committee, a position at that time was almost on par with Senate president in influence. He was also chairman of the Ohio Democratic Party for nearly two years.
"Harry was the single strongest advocate Youngstown had in Columbus in modern times; just look around the Youngstown State campus," said Thomas Suddes, a Youngstown native who covered the Ohio Legislature from 1983 to 2000 for The Plain Dealer.
"With term limits, it's going to be hard for anyone to be as strong of an advocate for the whole Youngstown region as Harry."
While in the Ohio Senate, Meshel helped Youngstown State University receive about $150 million in state funding. Meshel Hall, its technology center, is named in his honor.
"Youngs-town State has been a great, great asset for our region and our community and that's greatly due to Harry's efforts over the years," Suddes said.
State Rep. Robert F. Hagan of Youngstown, D-58th, said he greatly respects Meshel, who served in the Senate while Hagan served in the House.
"He fought for the middle-class workers and for his district," Hagan said. "He was an incredibly strong advocate for this area. YSU grew considerably because of him. He's absolutely the most famous living politician in the area. He has surpassed all other politicians in this area not only because of his longevity but because of his accomplishments."
The two would later be rivals when they both sought a vacant Ohio House seat in 1997 with Hagan being selected by a 6-5 vote among Senate Democrats.
"We became friends again, but it was a bitter fight," Hagan said.
While in the Senate, Meshel said he worked almost nonstop.
"I enjoyed doing things for people and doing things that needed to be done," he said. "I chose not to be weak, and it rubbed some people the wrong way. But most people I fought with I remained friends with them. I enjoyed working with people even with those who I argued [with.]"
Though somewhat interested in politics before, it was the 1960 presidential candidacy of John F. Kennedy that inspired Meshel. He organized a citizens committee on his own for Kennedy in Mahoning County. The committee attracted the attention of Kennedy's campaign, and after he was elected president, officials with Kennedy's administration offered Meshel a job, but withdrew it when they found out he didn't have a law degree.
The irony, Meshel said, was he had planned to attend law school at Youngstown University, but shortly after making that decision the law school closed.
Meshel's initial attempts at running for elected office were unsuccessful. He lost Democratic primaries for Mahoning County commissioner in 1960 and 1962.
Meshel's break came in late 1963 when Youngstown Mayor-elect Anthony B. Flask selected him to be his administrative assistant, effective January 1964 when Flask officially took office.
Meshel served in that capacity for more than five years with Flask moving him to director of urban renewal, a job he didn't have for long as the Democratic mayor was defeated in 1969 by Republican Jack Hunter.
With a seat in the Ohio Senate open, Meshel won a seven-person Democratic primary in 1970 for the job, and then won the general election.
"I got busy right away," he said.
While finishing his first term in 1974, Meshel was selected as majority whip and finance committee chairman.
Meshel served as majority whip for two years before moving up in 1976 to assistant president pro-tem for four years. For seven years, Meshel served as chairman of the finance committee.
After Republicans gained control of the Senate after the 1980 election, Meshel was out as finance chairman, but his fellow Democrats in the Senate elected him minority leader in 1981. Two years later, Democrats regained control of the Senate, and Meshel was named its president.
That lasted only two years, but Meshel remained the Democratic leader from 1985 to 1990.
During much of that time, Republicans had an 18-15 majority in the Senate — Democrats controlled the House — so GOP officials had to work closely with Meshel.
"It was very difficult to work with Republicans, but we got things done," Meshel said.
From his position of power, Meshel was able to:
Help establish the Northeast Ohio Medical University in Rootstown, originally known as the Northeastern Ohio Universities College of Medicine.
Create collective- bargaining laws for public employees.
Sponsor a bill of rights for the handicapped.
Help establish business incubators.
Secure $160 million in grants and loans for economic development projects in the Mahoning Valley.
Form the CASTLO Community Improvement Corp.
Meshel ran in 1980 for Congress against Lyle Williams, the Republican incumbent, and lost. Meshel said one reason was that many in the Valley didn't want him to give up his seat in the state Senate.
But he also acknowledged: "I ran a lousy campaign. I took everything for granted. I didn't have a professional campaign manager. I wasn't aggressive enough. I was very disappointed, but I said, 'You're still in the Senate and you're one of the minority leaders.'"
One thing Meshel did — and still does — was mentor aspiring politicians.
That includes former Gov. Ted Strickland.
"I've known Harry for 30 years when I was doing lobbying work for mental health," he said. "I always admired his courage, willingness to speak his mind and his passion for what he believes in. He supported me when I ran for Congress and when I ran for governor."
Redistricting in 2002 took Strickland's southern-based district all the way up the Ohio River to Mahoning County's suburbs.
"Harry was very critical to my run for Congress in that district," Strickland said. "His support for me made people feel comfortable supporting me. I really owe him a lot."
Sen. Joe Schiavoni of Boardman, D-33rd, the current Senate minority leader and the first from Mahoning County in that position since Meshel, said Meshel "is somebody I can rely on for honest advice. He doesn't sugarcoat it. It's important to have someone to rely on for that."
After more than 22 years in the Senate, Meshel resigned in 1993 to become the state Democratic Party chairman.
"A lot of ex-officeholders were not interested in running statewide" in the 1994 election, he said.
"It was a miserable slate of candidates. I was blamed for everything. It was painful. I just left in [December] 1994."
After the failed effort to return to the Senate in 1996, Meshel kept active in politics, but never ran for office.
However, shortly after Strickland was elected governor, Meshel asked for an appointment to the YSU Board of Trustees and Strickland selected him.
Meshel's term ends in May 2016, a few weeks before he'll turn 92.
Despite medical ailments over the years, Meshel has no plans to retire.
"I don't want to slow down, and I won't until the man upstairs tells me to stop," he said. "I enjoy service and helping people. Retirement is boring to me."
More like this from vindy.com