Girl Scout wins Gold Award for teaching others the sport she loves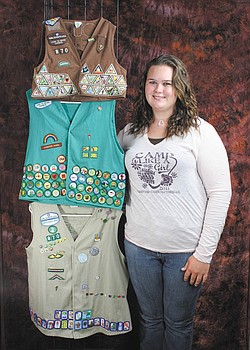 Photo
Special to The Vindicator: Elizabeth Pospisil is a recent recipient of the Girl Scouts Gold Award, which is equivalent to an Eagle Scout Award for Boy Scouts.
By Sean Barron
CORTLAND
When it comes to encouraging people on the autism spectrum to be straight shooters, you might say that 18-year-old Elizabeth Pospisil has a heart of gold.
And she has an award of the same color.
"I've been shooting archery since eighth grade," said Pospisil, a 2014 Lakeview High School/Trumbull County Technical Center graduate and Girl Scout ambassador. "I have three adopted cousins who are autistic."
Her love of the sport and sensitivity to those with autism spectrum disorders placed her on a trajectory to take on as her Girl Scout project teaching several children with autism, most of whom are middle-school age, the fundamentals of archery.
For her community-service project, Pospisil was a recent recipient of the Girl Scouts Gold Award, which is equivalent to an Eagle Scout award for Boy Scouts.
Since 1980, the award has represented the highest achievement in Girl Scouting. The prestigious accomplishment also challenges winners to make positive differences in their communities and qualifies them for certain college scholarships.
Those vying for the award undertake a seven-step process, according to the Girl Scouts website.
Pospisil spoke recently from the East Main Street home of her grandmother, Joan Pospisil, about her 80-hour project and the award.
Several months of planning went into the effort before she started April 7 and took home the Gold Award nearly three weeks later, explained Pospisil, who joined Scouting when she was in kindergarten.
Pospisil taught children mainly ages 9 to 15 with autism and other challenges how to shoot a bow and arrow, along with safety rules while on an archery range, she explained. The youngsters were divided into two groups, and each child received one-on-one instructions with an adult, she continued.
"I [also] trained adults how to shoot, and the rules," added Pospisil, who plans to enter Ohio State University's scholarships program and major in biomedical engineering.
Many people on the autism spectrum tend to be highly rule-oriented, have difficulty transitioning from one activity to another and have a variety of social challenges. So Pospisil and the other adults also had to learn effective ways to help them when they felt overwhelmed or were on the verge of a meltdown, she said.
If instructed properly, people with autism can learn archery and countless other skills and tasks as well as anyone else, added Pospisil, who also is an assistant Scoutmaster with Warren-based Boy Scout Troop 101 and was a lifeguard at Camp Stambaugh in Canfield.
Pospisil also praised her father, Albert Pospisil Jr., a certified range instructor, for helping her with the Girl Scout project. Father and daughter received training via the National Archery in the Schools Program Inc., a Waldo, Wis.-based organization that tries to foster in young people a greater interest in outdoor activities while encouraging better student motivation, attention and focus.
Those three virtues certainly aren't lacking in Pospisil, said her mother, Renee Pospisil.
"She was the top student at TCTC," Renee said. "She's very focused and intense. When someone tells her she can't do something, it's like a challenge."
"I'm just such a proud grandmother," Joan Pospisil said of Elizabeth, who also has volunteered for various Relay for Life events.