East grads chart new course
SEE ALSO: • Chaney grads told to dream big, don't give up
• Small-school attention makes difference at Jackson-Milton
• Value education, work hard and persevere, player urges Mahoning grads
By SEAN BARRON
news@vindy.com
YOUNGSTOWN
Commencement at East High School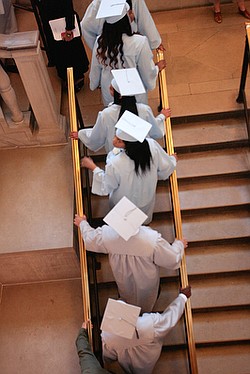 Gallery
Family members who proudly watched Naomi Macklin on her big day ranged in age from 11 months to 99 years — and spanned six generations.
But they shared one commonality: In their own ways, all were excited to see Macklin cross the stage to receive her high-school diploma, then open the next chapter in her life.
"I'm going to Eastern Gateway [Community College] and plan to go into nursing," explained Macklin, who was among the 206 graduates to receive diplomas during Friday's East High School/Choffin Career and Technical Center's Class of 2014 commencement at Stambaugh Auditorium.
The bookends of those who attended on Macklin's behalf were her 11-month-old son, Gideon Graham Jr., and 99-year-old great-grandmother, Ora M. Barrett, of Youngstown.
EGCC awaits Macklin this fall, but don't think her summer will be filled with downtime. She intends to work two jobs, one in St. Elizabeth Health Center's personnel department and the other with residents of Inn at Christine Valley, an assisted-living facility, said Macklin, who attended Choffin.
Macklin added that she will miss Choffin teachers Dennis Miller, Lori Clark and Margaret Stanko, all of whom provided guidance and acted as mentors to her.
"I applaud the school for working with us and understanding her value and our vision for her," said her father, the Rev. Lewis W. Macklin II, pastor of Holy Trinity Missionary Baptist Church on the city's South Side. "It was a collaboration between home, school, the community and the church."
In addition, the Rev. Mr. Macklin thanked "the many unsung heroes" who he said helped his daughter achieve her education.
Also proud — and surrounded by many family members and relatives — was Diana Lopez, whose ambitions include enrolling at Pittsburgh Technical Institute, a private, two-year school in Oakdale, Pa.
Lopez said she plans to pursue a career as a graphic designer, but in the meantime, she likely will unwind this summer, she continued.
"I'm very proud of her," said Jen Spahn, an administrative assistant at Choffin. "She's very respectful and helps any student, adult and teacher. She's going to go far."
Lopez took a graphic-design class and enjoyed boxing and delivering shirts she and fellow students worked on, Spahn recalled.
The graduates would do well to surround themselves with positive people and role models, and use mistakes they make as springboards to greater achievement, advised Jennifer Damico, Choffin's principal.
Offering similar words was Joseph Meranto, Choffin's director, who encouraged the grads to remain strong, fight but learn from adversity and pursue their goals.
Also at the ceremony, Angel Bell and Ra'Shawn Boykin, valedictorian and salutatorian, respectively, were awarded computer tablets for their achievements and to further assist in their education. Both also shared several school memories.
Additional remarks came from Dayna Fletcher, senior class president, and Kaylor White, East High's class adviser.