We once had dreams too, inmates tell Liberty students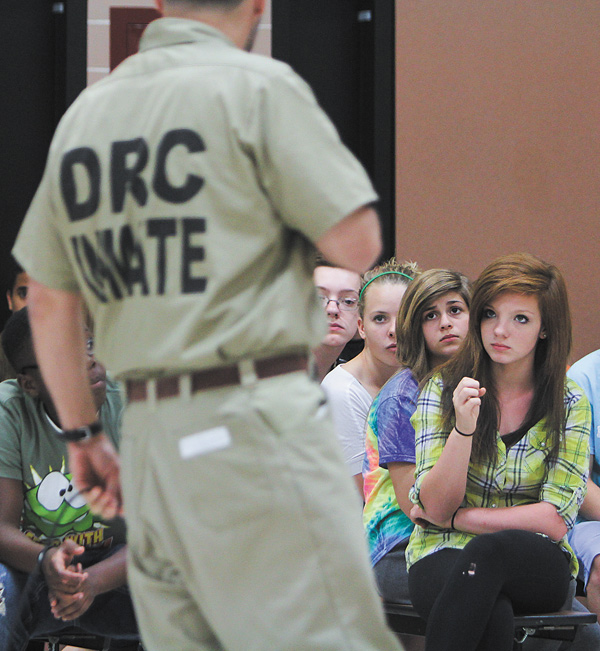 ---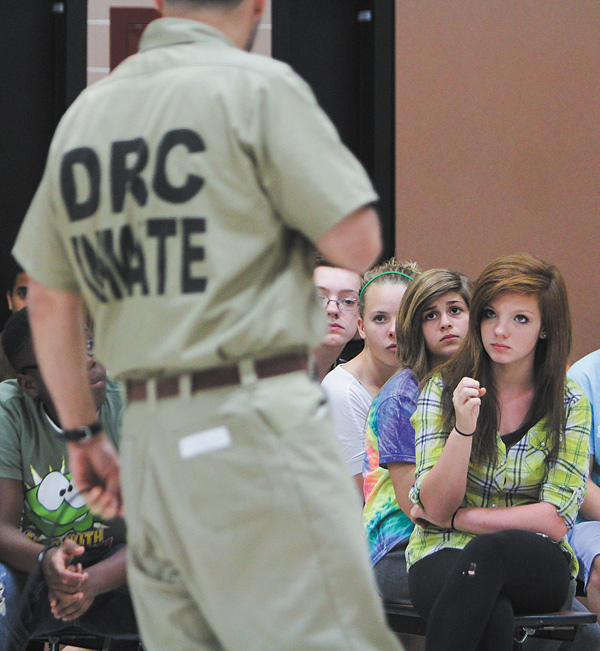 Photo
Ohio Department of Rehabilitation and Correction inmate Paul Fitzpatrick of the Grafton Correctional Institution in Grafton, Ohio, talks to eighth grader Taylor Davies and other students at W.S. Guy Middle School in Liberty.
By JEANNE STARMACK
starmack@vindy.com
LIBERTY
At one time, the four men standing in front of the roomful of eighth-graders at W.S. Guy Middle School on Wednesday were just like them.
They were making their transitions from childhood to adulthood — about to step up from junior high to high school.
They had their dreams about what they wanted out of life. For them, it was careers in law enforcement, engineering, construction and sports.
They wanted to fit in with their friends, and sometimes, they felt like they didn't.
Like the W.S. Guy eighth-graders, they had plenty of choices.
They made too many wrong ones, and now, as inmates at the Grafton Correctional Institution in Grafton, Ohio, they have none.
"Someone's making them for us," said James Moore, 38, who has 23 months left to finish on a 10-year sentence for aggravated burglary and drug trafficking.
Moore and his fellow participants in the Dope is for Dopes Youth Outreach Program, which allows carefully screened minimum-security prisoners to speak at schools, encouraged W.S. Guy's students to makes good decisions. Their goal, they say, is to encourage teenagers not to make the same mistakes they did.
"We'll tell you what not to do," said Stanley Martovitz, 32, who has one year left on his seven-year sentence for aggravated burglary, drug trafficking and felonious assault. "We're experts at what not to do!"
What not to do, the men told them, is to ignore the advice of the people who have their best interests at heart such as their parents and teachers, and believe that taking street drugs and drinking is normal just because they see it happening around them all the time.
In Jimmy Johnson's neighborhood, he saw a lot of bad decisions while growing up.
"My best friend sold drugs, so I sold drugs," said Johnson, 37. "I wanted to be accepted by people.
"Once I got to selling drugs, I didn't care about school anymore. In high school, I became a father. I didn't pay attention to school. I was a bad influence on my other friends.
"We got bad influences, we do bad things. That's what we gotta understand. My mother got in trouble because of what I was doing. We gotta think about what we're doing to other people," he continued.
Johnson is in his eighth of a nine-year sentence for drug trafficking.
For Paul Fitzpatrick, 43, who's serving his 17th year of an 18- to 50-year sentence for aggravated robbery and aggravated burglary, it was pressure that contributed to his bad choices.

He grew up, he said, in Cleveland's inner city until he was 13, with a stepfather who made it clear he was "not his son."
He was "a heavy kid" who was bullied at school. He found his stepfather dead from a suicide when he was 13, and his mother became a nonfunctioning alcoholic. So relatives took him to live with them in the suburbs, and life was better there. But still, he felt like he didn't fit in.
He said the relief for that kind of pressure are "safety valves," such as teachers, parents or counselors.
"I didn't use them," he said. "I fought. I put up walls. I didn't ask for help."
He began taking drugs, then quit school in 12th grade, he said.
The inmates' message hit home. Some students said they could see themselves and their friends in portions of what was said.
"It was a great speech!" said Dra Rushton.
The prison has been sending inmates from the program to the school for the past 10 years, said principal Judd Rubin. He said the school requests that their message focuses mainly on rejecting drugs and alcohol as they transition to high school.