Published: Wed, June 4, 2014 @ 12:00 a.m.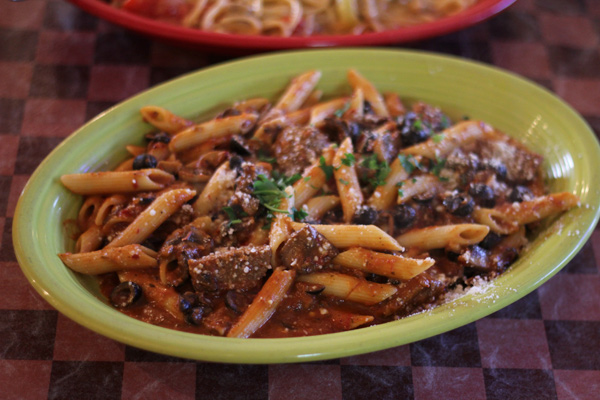 Photo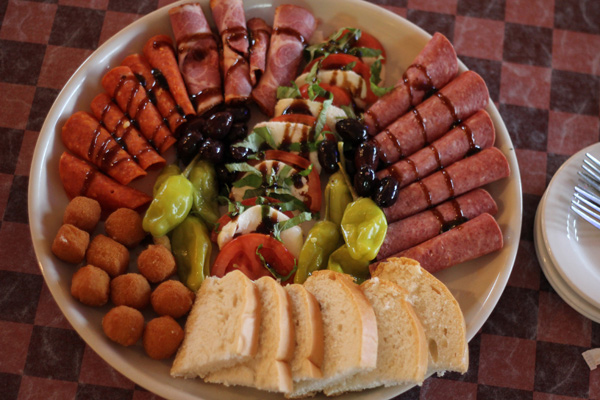 Photo
The Antipasto Platter is the signature appetizer at Dechellis Italian Café in New Middletown.
NEW MIDDLETOWN
A bit of serendipity played into our arrival at DeChellis Italian Cafe. Our original intent was to head downtown to another Italian eatery, but the owner declined to return three phone calls. Apparently he didn't appreciate the culinary gravitas that comes with being featured in one of our articles.
While expressing some misfortune upon the restaurateur and his future heirs, a friend suggested we should try a little Italian joint out in New Middletown. So we called, got the owner on the first ring, and were set to visit in a couple of days to try DeChellis' Signature Dish, Pan Tossed Pasta.
We pulled into the parking lot off Route 170 and soon noticed the awning in front emboldened with the phrase "A, OW U DO' N?" Approaching the front door we could hear the crooning sounds of Frank Sinatra throughout the intimate dining room. It was immediately evident that our friend Vinnie "Boombatz" Pecchia would feel right at home here.
Once we were seated, the owner, Darlene DeChellis, greeted us and began telling us the story of how selling stromboli rolls at festival trailers led to this full Italian eatery.
Darlene stated that she and her family have been making stromboli rolls for 25 years at festivals and fairs both near and far. This activity was limited to the warmer months, but thirteen years ago she decided there was enough demand for the product that she opened up a storefront to sell them year round. Two years into operation she expanded the footprint of the restaurant and developed a robust menu of Italian staples.
We started our meal with their signature appetizer, the Antipasto Platter. This large offering consisted of salami, pepperoni, capicola, pepperoncini peppers, Kalamata olives and fried hot pepper cheese cubes as well as fresh mozzarella and roma tomatoes accented with a chiffonade of fresh basil. This was all topped with a balsamic vinegar reduction and served with fresh Italian bread. Also served on the side was olive oil infused with fresh herbs. The meats were nicely spiced and paired well with the sweetness of the mozzarella and fresh basil. It was the type of plate we'd make for ourselves and could easily be a meal in itself.
We next moved on to the signature pan-tossed pasta. This is essentially a "build-your-own" pasta dinner. The way it works is that you first choose your pasta. Options include penne, spaghetti or farfalle (bow tie). Next, the sauce choices consist of a classic red, alfredo, a la olio (garlic and oil), creamy pesto, diablo ( hot) and their popular blush sauce (mix of red and alfredo). You select two vegetables from a list of many including spinach, mushrooms, olives, peas, onions, sweet and hot peppers, broccoli and tomatoes. Finally, you choose your meat. The choices are sausage, chicken or meatballs.
We tried two different combinations. First, spaghetti with sausage, roasted red peppers and hot pepper rings in the blush sauce. The sauce was a nice combination of the cheesy Alfredo and their house red. The sausage was crumbled throughout the dish and added a slight spice. The hot pepper rings provided a tangy finish and made for a satisfying entree.
Our next pan-tossed pasta consisted of penne with olives and mushrooms in the spicy red diablo sauce and topped with their homemade meatballs. The meatballs are made of a combination of veal, pork and beef mixed with Parmesan cheese, herbs, garlic, bread crumbs and egg. We both loved the diablo sauce. It had the perfect amount of spice and didn't overpower the savory meatballs or the vegetables. You could still taste every ingredient and it made for a wonderful dish. These hearty entrees are served with a fresh side salad containing a mix of crisp greens, tomato, olives and shredded mozzarella.
Given that DeChellis got its start making stromboli rolls, it just didn't seem right that we should leave without trying one. They have six different choices as well as a build your own. We went with their most popular, the Super Boli. This included Italian sausage, pepperoni, mushrooms, peppers and mozzarella cheese all stuffed in their homemade dough and baked to perfection. Darlene explained that the dough is made fresh daily. This is served with a side of their red sauce. All the ingredients worked well together, but the real star of this dish was the dough. You could taste the freshness. No wonder why people requested these rolls 12 months of the year.
As we finished our Italian meal, we reflected on the homey atmosphere and reminisced about Sunday dinners in our respective childhoods. Dinners were usually around 1 p.m. and almost always involved some kind of pasta. While not gourmet cooks, our moms made meals that stood the test of time. Written on a beam in the restaurant are these words, "The fondest memories are made when gathered around the table." The food at DeChellis brings out those memories.
ABOUT Signature Dishes
Mike and Mark are on the lookout for the biggest, hottest and tastiest dishes in the Valley. Email them at BrothersInFood@gmail.com.