Published: Tue, June 3, 2014 @ 3:01 p.m.
Zayas and Zamary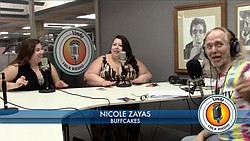 Video Set
Vindy Radio will be live from 8 a.m. to noon Wednesday with host Louie Free.
Along with the show's regular programming, we'll welcome Nicole Zayas and Marisa Zamary for a special segment at 10 a.m.
To duo have a few things they're itching to talk about with Louie:
Zamary's one-woman show with the Rust Belt Theater Company entitled "She's Got a Way" will open this Friday. Other performances will be this Saturday as well as June 13 and 14, all at 8 p.m. at the Calvin Center, 755 Mahoning Ave., Youngstown. For reservations, call 330-507-2358.
Zayas, a baker at Buffcakes, a local cheesecakery in Youngstown, will unveil her newest cheesecake flavor LIVE on the air. Her new yummy cheesecake will be for sale at the Artists of the Rust Belt's Summer Market, which is 1 to 7 p.m. Saturday and noon to 5 p.m. Sunday at B&O Station, 530 Mahoning Ave. Zayas will also have the scoop on some of the local artists and craftspeople that will be featured at the summer market this weekend!
Listen in to find out some great ways to support local artists and their businesses!
Click here to listen to the show. Follow us on Twitter— @vindyradio.
Vindy Talk Radio Studio: 330-333-4454