Lowellville FD looks to recruit next generation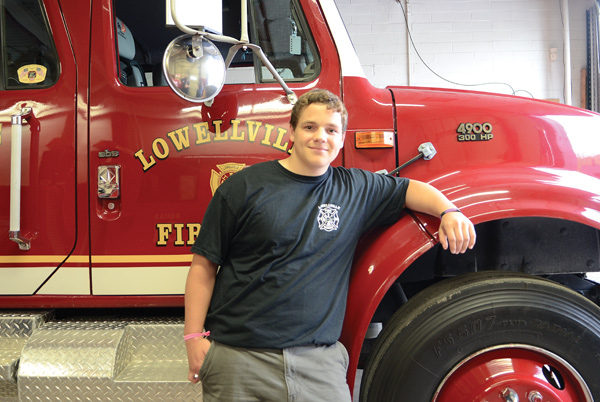 ---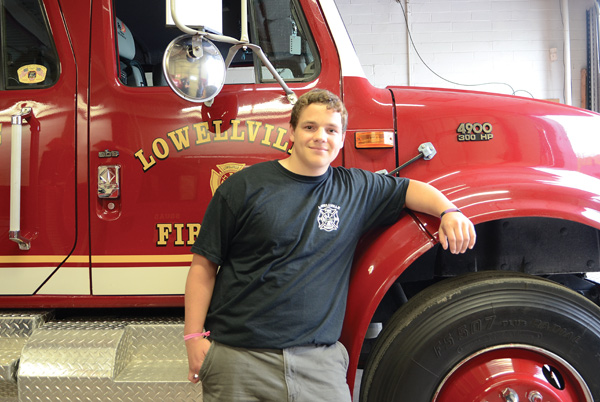 Photo
Christopher Inskeep, 17, stands beside a firetruck at the Lowellville Fire Department's Station 31 on McGaffney Street. The Lowellville High School senior hopes to become one of the first participants in the department's new cadet program.
By EMMALEE C. TORISK
LOWELLVILLE
With longtime members of the Lowellville Fire Department as parents, 17-year-old Christopher Inskeep already is an unofficial part of the force.
"I've been back here my whole life, hanging out around the same people," said Christopher, a senior at Lowellville High School, while inside Station 31 on McGaffney Street. His mother and father, Tina and Mark Inskeep, are a first-responder and a firefighter for the Lowellville Fire Department, respectively, with more than 30 years of experience between them.
But in the next few months, Christopher hopes to become a more-permanent fixture within the department by being selected as one of the first participants in its cadet program — which is open to local students age 16 and up who are interested in learning more about firefighting.
Participants "won't be able to run into a burning building," said Fire Chief Al Boggia, but they will have the chance to do most everything else at the scene of a fire: change air bottles, control traffic, assist with equipment. Opportunities to help with medical calls also may be possible.
They'll essentially learn "everything on a very basic level," he said.
In addition to gaining this experience and finding out "what a good feeling it is" to give back to the community, cadets also will discover whether firefighting is a career they might like to pursue.
"We're looking for the future members," Boggia said, "because we expect the younger ones to move up, and we need everything to follow up behind."
One of those future members could be Christopher, who has been thinking about a career in firefighting after graduating from high school next year.
"I'm looking forward to helping out the community," he said.
Applications are available now from the Lowellville Fire Department and likely will continue to be accepted on a rolling basis, even after the program officially begins in the summer.
Those accepted into the program will have to devote a certain number of hours to the program each month, but won't be able to go on calls during "all hours of the night," Boggia said. He's considering a 10 p.m. cutoff that might be extended an hour later during the summer, when school is out of session. Cadets also can't let their work with the fire department interfere with school in any way, and they must keep their grades up or risk suspension from the program.
All of these expectations will be discussed in a meeting beforehand with both the prospective cadet and his or her parents, Boggia said. Both Tina and Mark said they were excited that Christopher, their youngest of four sons, was considering joining the program.
Tina said she's encouraged to see that younger people are becoming more involved in the community and are being exposed "to the real world and to real-world activities" through programs such as this one.
Mark noted that he'd be thrilled to have Christopher work alongside him, explaining that the skills he's gained from working at the fire department are life skills: dealing with people, talking with people, being dropped into "so many different situations" and learning "how to handle them."
Such work also teaches honor and discipline — both of which are characteristics Boggia is hoping to pass on to the next generation.
"You have to love your community and neighboring communities," he added. "You really have to want to be here."