Resident helps village update its bicycle laws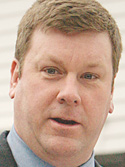 ---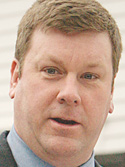 Photo
By Robert Connelly
POLAND
Resident Frank Krygowski prepared an extensive packet for Poland Village Council that led to the repeal of all village ordinances related to bicycles in favor of state laws.
Council voted unanimously to repeal the ordinances at its May 20 meeting. After the vote, Mayor Tim Sicafuse thanked Krygowski for the legwork. "If he wouldn't have done this, we probably would have had something bad happen," Sicafuse said last week. He was referring to the possible liability the village could have been responsible for under their outdated laws.
Krygowski provided The Vindicator a copy of the document he prepared for council, including excerpts from the old village ordinances and state law. The state law specifically is Ohio House Bill 389, which was passed in 2006 to bring uniform laws related to bicycles in the state.
Both village officials and Krygowski said the ordinances were on the books but weren't enforced regularly. However, the ordinances placed a lot of liability on the village if anything had happened to a bicyclist.
Sicafuse said an ordinance related to sidewalks "was something that caught me off guard." That measure, village ordinance 444.06, states "a person operating a bicycle shall ride upon the sidewalk rather than on the roadway when sidewalks are available."
That violated state law under Ohio House Bill 389. Section 4511.711 of that bill states, "No local authority may require that bicycles be operated on sidewalks."
Krygowski is a member of the board of trustees of the Ohio Bicycle Federation, and he said that group's members, about 15 to 20, have been going to smaller areas around the state to raise awareness about outdated laws.
"A lot of small municipalities had eerily similar packages of laws," Krygowski said. He added the types of ordinances he found in Poland are "kind of amazingly common."
An example of these peculiar laws is an ordinance that said a person must stop riding and walk the bike through an intersection of a street. So if someone had rode his or her bike through an intersection and been struck by a car, the cyclist would have been at fault under the village ordinance.
In his packet, Krygowski wrote about that ordinance. "Dismounting and walking would frequently put bicyclists in more danger than simply riding according to normal rules of the road."
Now that the village is using state law, any fine money for bicyclists would go toward the state and not stay in Poland.
Krygowski said it's common for bicycle laws not to be enforced, but also said, "There are lots of bicyclists that have no idea" about safety.
He wants to see bicycle safety education more known. "I'd love to see some basics on bicycle education" in school gym classes, he said.