Stanford ends YSU baseball's dream run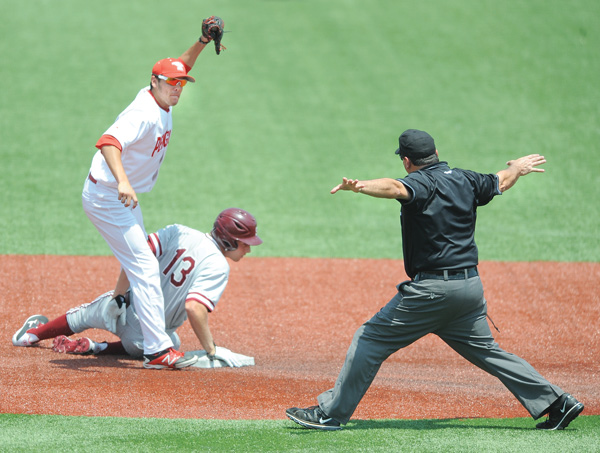 ---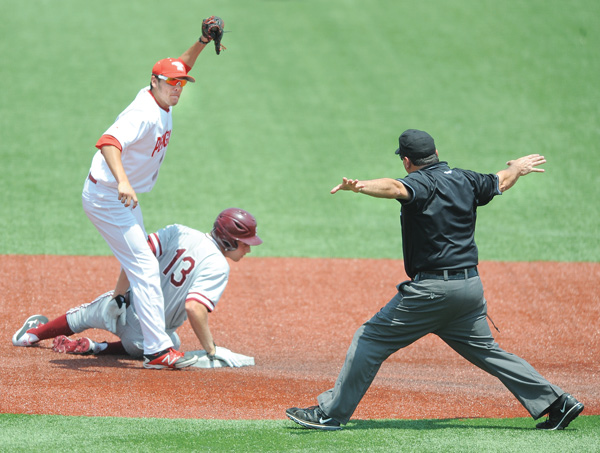 Photo
Youngstown State infielder Phil Lipari shows the ball to the umpire after tagging baserunner Austin Slater of Stanford on a steal attempt during the second inning of Sunday's NCAA regional elimination game at Bart Kaufman field. Slater was safe and the Cardinals won 12-4.
Stanford ends Youngstown State's dream run
BLOOMINGTON, IND.
For 30 minutes on Sunday, the Youngstown State baseball team held a two-run lead over college baseball's fifth all-time winningest program, Stanford.
However the final two hours and 15 minutes belonged to the Cardinal, who bounced the Penguins from the Bloomington regional with a 12-4 romp at Bart Kaufman Field.
A day after winning its first NCAA tournament game in school history, Youngstown State (17-38) appeared to run out of steam against a Stanford (32-24) team that's accustomed to winning this time of year.
"I think the biggest thing is that their skill level — their talent level — if you make mistakes, you probably are going to get hurt pretty badly," Penguins coach Steve Gillispie said. "And we couldn't close out innings."
A six-run second inning, sparked by back-to-back home runs with two outs by the Cardinal No. 2 and 3 hitters, turned a two-run Penguins lead into a four-run deficit and forced YSU starting pitcher, Ryan Krokos, to an early exit.
"So if you can't put away a hitter," Gillispie said, "you're probably going to get it a lot worse than maybe what we experienced during the course of the year when you have athletes like were out on the field [Sunday] and Friday."
YSU's junior right-hander faced 12 batters in 12/3 innings and gave up six runs on five hits.
"After that second inning, when they put up six, that was the 18th run that we had given up in the tournament," Gillispie said. "Sixteen of those 18 runs came after two outs were recorded in the inning."
Before the disastrous second inning, the Penguins were off to an encouraging start. They took advantage of two walks and a hit batter to load the bases in the top of the first. Phil Lipari and Brent Gillespie then scored on an error by Cardinal first baseman Danny Diekroeger, giving YSU an early lead without recording a hit off Stanford starter Brett Hanewich.
"I don't know what [pitching] coach [Rusty] Filter told him but it worked," Stanford coach Mark Marquess said after the game. "He settled down and pitched great for us and it really helped us because we didn't have to use any of the other arms for any great length."
Later Sunday, the Cardinal defeated No. 4 national seed Indiana 10-7. The teams will play for the regional title tonight at 5:30.
For the Penguins, it was disappointment, but not devastation. They were able to score two runs in their final half-inning of the season to put a bookend on an experience they won't soon forget.
"It's such an accomplishment to be on the field with [Stanford]," said senior David Saluga, who had an RBI in the game. "For the younger guys to get this experience — as a senior leaving, it was great — but as a freshman playing in these games, in the future, they are definitely going to rely on this and keep going back to it."
"We'll always be proud of what we did this past year."