Mr. and Mrs. Triveri honored for golden year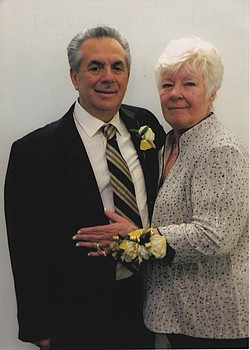 Photo
Mr. and Mrs. Dominic J. Triveri Sr.
BOARDMAN
Mr. and Mrs. Dominic J. Triveri Sr. of Boardman celebrated their golden anniversary April 5 at St. Dominic Banquet Hall in Youngstown. The occasion was hosted by their children. The couple also renewed their vows April 5 at a Mass at St. Dominic Church, which was officiated by the Rev. Gregory Maturi.
Their children are Kimberly (Jeff) Spear, Dominic Jr. (Kimberly) Triveri and Jason (Robyn) Triveri, all of Boardman.
They also have eight grandchildren.
The former Dolores M. Kucharski married Mr. Triveri March 17, 1964, at Sacred Heart Church in Youngstown.
The couple are members of St. Dominic Church in Youngstown.
Mrs. Triveri worked at the service desk at Kmart in Boardman and retired in 1997.
Mr. Triveri worked for General Motors in Lords-town as an assembler and retired in 2003.