Struthers councilman preserves piece of city fire department's history
---
1943 Firetruck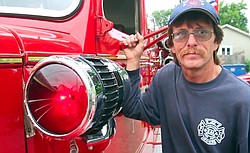 Video
A former Struthers fireman owns a piece of the city's fire fighting history.
FULLY INVOLVED
Struthers councilman-at-large preserves part of history
Struthers councilman preserves piece of city fire department's history
Struthers councilman-at-large preserves part of history
By EMMALEE C. TORISK | etorisk@vindy.com
STRUTHERS
Not too many things move Michael S. Patrick.
One of those things happens to be a 1943 Mack firetruck, used by the city for almost 40 years.
"That's our heritage," said Patrick, city councilman-at-large. "People need to care about this."
It's evident that he does. Patrick, a lifeong resident of Struthers and a former volunteer firefighter for 27 years, has the unique ability to recite the firetruck's history with passion and without pause.
The truck was, for example, purchased by the city as the replacement for a 1919 American LaFrance fire engine — the only vehicle "they had to protect the community and the mills," Patrick said. Obtaining it wasn't easy, though, as the Mack plant had been seized by the federal government for the war effort, and its normal production was hampered.
It also was a brand-new firetruck for a brand- new station, as the department had just made its move from the corner of Bridge and Liberty streets to Elm Street, where it stands today.
And as the firetruck was constructed during World War II, it lacked a red light on top, so nothing could be seen by enemy pilots flying above. Instead, a slowly flashing red light was placed at the front of the truck's siren, which, incidentally, still works.
A lot still works on the firetruck nicknamed "Molly." The shiny medium-red paint gleams, and the doors are emblazoned with the city's name and the numeral "1." Of course, the hydraulic brakes and manual transmission, along with no power steering, make the firetruck not the easiest to drive, but it is very much functional. Patrick chuckled when asked if he would attempt to fight a fire with it.
Patrick attributed a great deal of the truck's survival today to Dick Dale and Don Clemente, former members of the city fire department who helped to bring it back to Struthers in 2000.
After the truck was phased out of service in 1980 — it was used primarily as a backup truck in its later years — the vehicle "got lost," Patrick said. Years later, the department received a phone call from Columbus, Ind., where a collector of Mack trucks had lived. He'd recently died, and the voice on the other end of the line wanted to know if any members of the fire department wanted the truck.
It wasn't in the best shape. "It was very rough," Patrick recalled.
But they still wanted the truck. It cost $1,170 to flatbed it to Struthers, and took about a year to restore. Patrick is a mechanic by trade, having worked 35 years for Ohio Edison, and was a major part of the restoration process. He remembers telling Clemente that the second he got tired of owning the truck, to let him "have the first crack at it."
That opportunity would come just a few years later, when Clemente moved out of state. Patrick jumped at the chance. In the years since, he's pulled it out for parades and for funeral processions, such as those for Don Cooper, former city fire chief, and Ray Nemeth, former firefighter engineer.
Nemeth had requested "one last ride in the firetruck" in a letter written to his family before his death, and had even included Patrick's name, address and phone number. That's one of the things that has moved Patrick in his life.
Another of those things came just a couple of months ago, on Memorial Day morning, after Patrick noticed a plume of dark smoke in the sky, which he followed. The smoke brought him to a row of buildings on Spring Street, and as he describes it, his "heart just about jumped out of [his] chest" upon the realization that the very last building in that row housed his firetruck.
He'd beat even the fire department there. Flames were shooting over the top of the buildings. He had no choice but to try to break in. But even when he finally got inside, the truck wouldn't start. In the rush to get it to work, which it eventually did, Patrick blew the differential and broke an axle.
"Where are you going to get parts for a 1943 Mack?" he said.
Patrick called all over the country. His search led him to both New York and Pennsylvania. In Pennsylvania, home to the Mack Truck Plant and Museum, Patrick found the original paperwork from the firetruck's purchase — including a requisition for new truck equipment from Feb. 25, 1942 — along with a photo dated Feb. 12, 1943, of the newly built truck in the plant. They were still on file in a folder labeled "Struthers, Ohio."
So, even though his search for parts, and for the parts themselves, cost him more than $3,000, it was worth it, just for that moment. He's now more committed than ever to his "crazy and expensive hobby" of maintaining the truck; he's hoping to have a permanent home for it secured within the next year.
"It's part of our community," Patrick said. "I know how important the fire department is, and I'm invested in caring about its history and making sure people remember it."
Harold Milligan Jr., a former fire chief in Struthers, added that he thinks what Patrick is doing is "a wonderful thing," and hopes that the truck remains in its home for years to come.
"He really loves Struthers and all its history," Milligan said.