Canfield 11-12 team to play in Indianapolis regional
---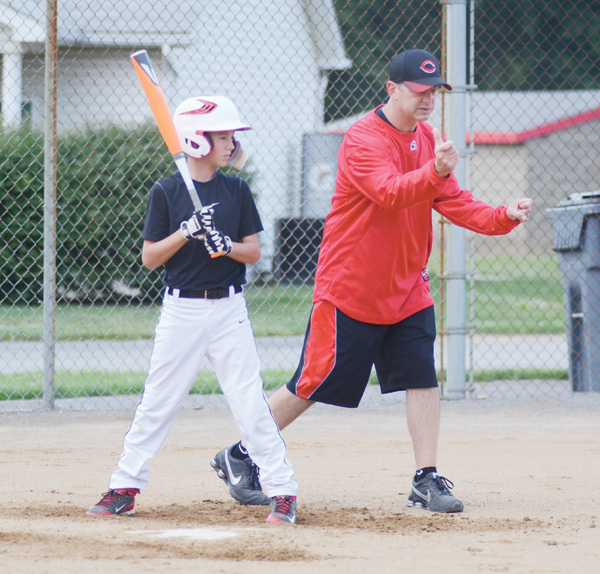 Photo
Jake Kowal of the Canfield 11-12 Little League baseball team listens to instructions from his coach George Beck at Wednesday's practice. The team is headed to the Great Lakes Regional Tournament in Indianapolis on Saturday after winning the state title last weekend in Cambridge.
Indianapolis-bound: New faces
help take Canfield's team places
CANFIELD
This time last year, George Beck was still moping around after his Canfield 10-11 baseball team was eliminated in the state tournament for the first time in their young careers.
"We weren't playing at a high level last year," said Beck, whose team is a year older and now a part of the Little League Major Division. "We were up and down and it caught up to us at state."
This year Beck has a new attitude and his Canfield 11-12 team has benefited from two new players. As a result, they leave today for the Little League Baseball Great Lakes Regional Tournament in Indianapolis, Ind.
They will represent Ohio after defeating Hamilton, 3-2, in the state championship last week. It was a couple of new, and unlikely, faces that lead them to victory.
Brandon Mikos was playing with the 9-10 team last year. Cole Morell wasn't part of this team the last two seasons. Yet last Saturday in Cambridge, Mikos and Morell were the winning battery for Canfield in the state title game.
"It was very exciting, because I've been imagining [winning state] since I was a very little kid when I started playing," said Mikos.
As an 11-year-old, Mikos features four pitches: fastball, curveball, changeup, knuckleball.
Although he prefers the curveball, and he's still mastering the knuckleball, Mikos says he has confidence in any pitch his catcher, Morell, tells him to throw.
"It's fun to catch a pitcher like that," Morell said. "His curveball was really working [last Saturday]. Kids were swinging at it in the dirt."
Morell, 13, began playing catcher again in a recreational baseball league prior to this season. It was the first time he strapped on the gear in a few years. His first substantial amount of action behind the plate was in the state tournament.
"I just block all the balls that hit the dirt," said Morell of his main focus. "I think [the position] stayed in me a little bit."
As for catching Mikos' knuckleball, Morell said it's no big deal for him anymore. He's become used to it, which is something that can't be said for the batters who have to try and hit it.
"It's always different," said Morell. "It moves all over and that's what makes it hard to hit."
Beck is glad to have Mikos and Morell on the team this year. When he and his coaches sat down to select the 13-player roster, they wanted to make sure they had role players — kids who could be brought in for defense or to pinch run. They didn't want to have kids who would be uncomfortable coming off the bench.
Job well done.
"I look back on it right now, and in fact I told some of my coaches the other day, I think we got it exactly right," Beck said. "I firmly believe that."
Canfield has a difficult challenge ahead. In the Great Lakes Region, Wisconsin and Illinois have teams that are from the same town as last year's participants. Michigan is the reigning champion.
However Beck doesn't expect any atmosphere or added pressure to bother his team.
"The biggest thing for the kids right now is who they're gonna room with," he joked.
The winner advances to the Little League World Series in Williamsport, Pa.