Published: Wed, July 30, 2014 @ 12:00 a.m.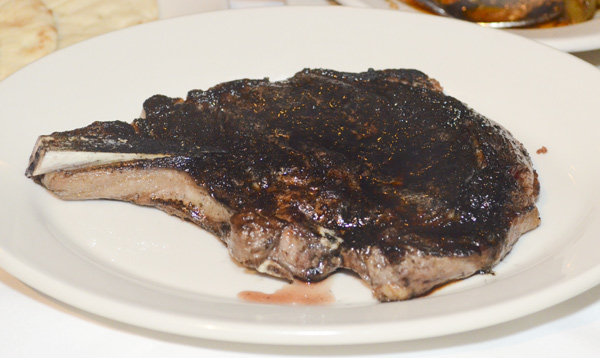 Photo
Charred rib steak is a signature dish served at Café 422.
If You Go...
What: Café 422
Address: 4422 Youngstown Rd SE Warren, OH
Phone: (330) 369-2422
When we are stuck for an idea, we turn to our friend and gastronomic guru Crissy Rhoades. Even though she requests salads without tomatoes, peppers, onions, cucumbers and olives (and of course, dressing on the side please), and demands a clean set of silverware between courses, this woman is a true bon vivant.
Recently she informed us that though she hasn't been there in years, she's heard good things about Caf 422. So with that in mind, we made plans to head out to Warren and visit this establishment celebrating its 75th year in service.
We arrived on a Thursday evening and found the restaurant bustling with patrons. For the past nine years Caf 422 has been owned and operated by brothers Serdar and Erdel Dede. Serdar took time away to sit with us and share some of the history of this local landmark.
The restaurant has been remodeled in the past few years and the d cor is fresh and contemporary, while photos on the wall proudly reflect its origins. An outdoor patio has been added for those preferring an alfresco dining experience.
Our meal began with two simple but wonderful appetizers. Caf 422's famous hot peppers in oil and eggplant caponata. It seems that everyone has their own version of hot peppers in oil. Their version consisted of Hungarian wax peppers, olive oil, garlic, salt and pepper. Just a few ingredients but big on flavor. The caponata included sauteed red and green bell peppers, eggplant and a touch of tomatoes. The vegetables and seasonings melded into a dish with depth and richness. Served with freshly made bread, they made for a great beginning.
We next sampled the Italian Gourmet salad. Crisp escarole, green and black olives, tomatoes and blue cheese topped with Paris dressing. The dressing has a sweet and sour taste, which paired well with the sharpness of the blue cheese.
The next course comprised two seafood dishes. First was Cajun tilapia topped with shrimp scampi. Tender tilapia filets dusted with Cajun spice topped with plump shrimp. Tilapia is the type of fish that in itself has a mild flavor but absorbs other flavors well. The slight spice from the Cajun seasoning worked well with the garlic flavor of the shrimp to make for a very pleasant dish.
The other sampling was Shrimp Scampi marinara. This dish starts with clams and shrimp sauteed in olive oil and garlic. White wine is added along with a touch of their homemade marinara. This is served over linguini pasta. The dish is a perfect example of balance. The sweet clams and shrimp contrasted with the slight acidity from the marinara. There were subtle hints of garlic and white wine and the pasta was cooked perfect al dente.
Not one ingredient over powered the other and made for one of our favorite offerings of the night. A superb dish.
We next moved on to their signature steak, the 18-ounce bone-in charred rib steak. While a lot of people go for a lean filet, we feel there is nothing better than a nice ribeye. This cut has a higher fat content, which, when cooked properly, means more flavor. Serdar explained that they buy whole loins and each steak is individually cut and trimmed.
This signature dish starts by the steak's being grilled almost to temperature. Next the char seasoning is sprinkled on the meat; their seasoning consists of onion, garlic, salt and seven different types of pepper. The steak is finished under the broiler to the desired temperature and charred appearance. We ordered ours medium rare and the kitchen didn't fail us. We cut into this beauty, cooked perfectly, and anxiously took the first bite. Buttery beef flavor, salt and spice from the seasoning, and melt in your mouth tender. Mark of course couldn't wait to get his hands on the bone.
It may be hard to believe but we also sampled the prime rib as well as the New Zealand lamb chops.
The prime rib is cooked slow and low for 3 to 4 hours. It is then cut into either 12-ounce or 16-ounce portions and finished according to the diner's preference and served with au jus. Cafe 422 is offering a version of this dish for only $9.75.
The lamb chops are marinated in a mixture of garlic, olive oil and Italian seasonings for 24 hours. They are then dusted with the Char spice and cooked to order. Ours were medium rare, tender, and had a slight gamey flavor consistent with lamb and absolutely delicious.
Our meal concluded with a trio of dessert samplings; tiramisu, chocolate cake and creme brulee. Along with a perfect cup of coffee, it was a decadent ending to an exceptional meal. Which brings us to the second question, what about the leftovers? Well, quite honestly, generally there are none.
Sedar's belief in hospitality came through in his words and the food at Cafe 422. He spoke about the good food found at locally owned restaurants throughout the community, and with pride about being a part of the legacy of his own establishments. Caf 422 is marking its Diamond anniversary, both in Warren and at the newer Boardman location, with specials now through September. It's a perfect time to visit and join them in a celebration 75 years in the making.