U.S. attorney urges max sentence for Lupo in illegal dumping case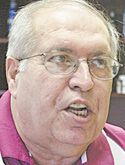 Photo
By PETER H. MILLIKEN
milliken@vindy.com
CLEVELAND
The assistant U.S. attorney prosecuting Ben Lupo for illegal discharges of oil-field waste into a Mahoning River tributary in Youngstown wants the maximum sentence — three years in federal prison and a $250,000 fine — to deter others from similar conduct.
However, Lupo's lawyers say probation or house arrest is appropriate because "any period of incarceration will be a death sentence" for Lupo, a diabetic kidney transplant and knee-replacement recipient, who undergoes kidney dialysis five times a week.
Both sides filed their written sentencing proposals Tuesday in federal court.
U.S. District Judge Donald C. Nugent will sentence Lupo, 64, of New Springfield, at
10 a.m. Tuesday based on Lupo's guilty plea to violating the federal Clean Water Act.
Two employees of Lupo's Hardrock Excavating LLC — Mark A. Goff, 46, of Newton Falls, and Michael P. Guesman, 35, of Cortland — pleaded guilty to the same charge and received three years' probation after saying they repeatedly dumped the waste at Lupo's direction.
A Jan. 31, 2013, discharge of brine, drilling mud and drill cuttings triggered a multiagency investigation and a
$3.1 million cleanup.
Brad J. Beeson, the assistant U.S. attorney prosecuting the case, said the maximum sentence is justified by the repeated, unpermitted discharges of pollutants, Lupo's supervisory role and the high cleanup cost.
"The defendant avoided the costs associated with the proper disposal of the waste drilling fluids," Beeson wrote of Lupo's financial motive for his crime.
Imposing the maximum sentence "will place the public on notice that the United States takes illegal discharge crimes seriously and offenders will be prosecuted," Beeson wrote.
However, Lupo's lawyers — Joseph W. Gardner of Canfield and Roger M. Synenberg and Clare C. Christie, both of Cleveland — wrote that their client has no criminal history, will never obtain another drilling license and "is permanently out of business."
Lupo's medical condition clouded his judgment, but he ordered the discharges from waste storage tanks to keep his employees working after he shut down his waste disposal wells after a series of earthquakes were attributed to them, his lawyers wrote.
"There is no evidence the Mahoning River, nor anywhere downstream, was harmed as a result of the illegal discharge," the defense lawyers wrote.
"No one was hurt" because of the discharges, they concluded.
More like this from vindy.com