Franks still rolling along after 68 years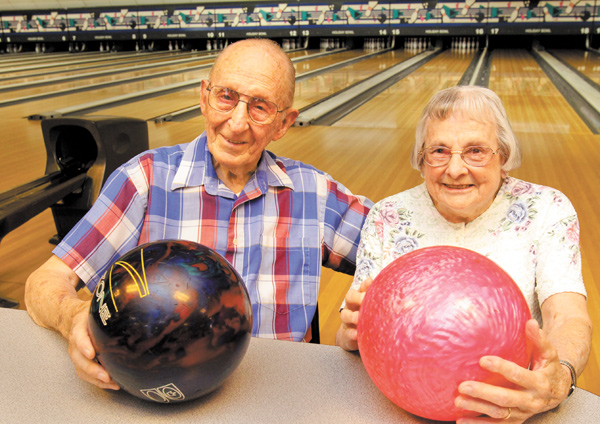 ---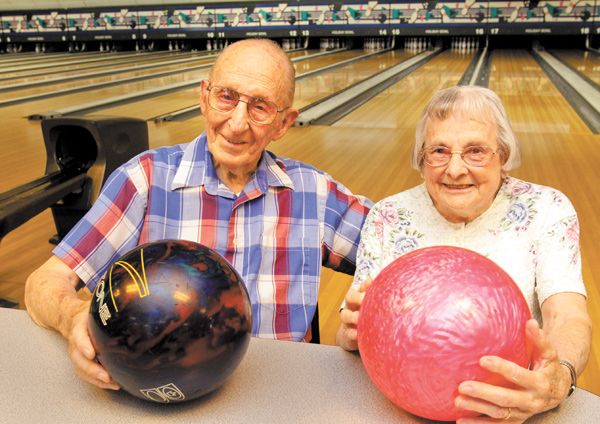 Photo
Gil and Doris Frank of Struthers met at a bowling alley almost seven decades ago. They still bowl together at Holiday Bowl on Youngstown-Poland Road. The couple typically bowls three games on Wednesdays and Fridays in the summer.
By EMMALEE C. TORISK
etorisk@vindy.com
STRUTHERS
Gil Frank has long been a self-proclaimed "bowling nut."
In fact, on the very day he got out of the Navy, Gil was able to visit with his family back home in Struthers for only so long before the siren song of rumbling bowling balls and clattering pins lured him in.
There, at a bowling alley in downtown Struthers, he met Doris, who grew up in Brownlee Woods and hadn't been to an alley before. She wasn't doing so well, Gil remembers, so he offered up some instruction.
"She bowled three strikes in a row," said Gil, 90, adding that he not long afterward discovered that Doris and his sister worked together at the General Fireproofing Co. in Youngstown.
He took Doris home to visit his family that night.
That was March 17, 1946. Neither Gil nor Doris Frank can remember their second date, but the two were married about a year and a half later, on Nov. 21, 1947.
Doris insists there's no real secret to their long and happy marriage.
"We just got along good together," said Doris, 87. "He was a good worker and a good father, and he's still a good husband."
Their marital bliss might have something to do, however, with their still doing the thing that brought them together almost 70 years ago: bowling.
On a recent Wednesday, both arrived at Holiday Bowl on Youngstown-Poland Road well in advance of their 1 p.m. bowling time — as usual. The couple typically bowls three games from 1 to 3 p.m. on Wednesdays and Fridays in the summer, joining a dozen or so others.
Though Gil started bowling as a teenager, when he was about 13 or 14 years old, and joined bowling leagues as soon as he graduated from high school, Doris got a later start.
"He bowled 40 years before I did," she said, explaining that for much of her life, she was busy raising their four children. When her oldest son turned 16 and could baby-sit the others, she finally had time to bowl.
The Franks bowled for a while at Camelot Lanes on Boardman-Canfield Road in Youngstown, and were involved with a number of leagues there, before making the switch to Holiday Bowl a little more than a decade ago.
Gil said he thoroughly enjoys the competition, and that his "love of the game" keeps him coming back, even though he can't throw as well as he once did. He added that he does somewhat mourn the falling apart of a number of area bowling leagues — something he blames on too many distractions, including television.
"People weren't as interested," Gil said.
Gil also offered up a few tips for those who do have an interest in the sport. First, practice is key.
It's also helpful to get the latest equipment. He admitted that his highest season average was 194, the result of using the same ball for 25 years. That's not normal, he said.
"You're supposed to change the ball with lane conditions," Gil added. "That's why I never got better."
Other tips? Find "somebody who knows about bowling to teach you," and, quite simply, listen.
The latter suggestion also applies to having a happy marriage, Gil said.
He's rather fond of telling stories about his adventures during World War II — he was drafted June 1, 1943, his 19th birthday — and even compiled a number of those tales into a book. There's the story about the USS Kiowa, for example. The fleet tugboat, which he was assigned to as part of a salvage outfit, got credit for shooting down a German plane during the invasion of Normandy.
There's also the story about his being probably the only naval fireman 1st class to fly a B-17 bomber over London during World War II. It's "a laughable one," and one of his favorites.
"I've heard that story about 40 times over the years," Doris said, laughing.
Julie Butch Amicone, 72, of Boardman often bowls with the Franks at Holiday Bowl, and has bowled for "years and years." She said she most loves the camaraderie, though the exercise isn't bad either, and likes the chance to be among like-minded people, including Gil and Doris.
"It's just getting out" and being with others, she added. "This gentleman's 90 years old. [He inspires me] to keep on keeping on."