Canfield takes title on Fitzgerald's no-hitter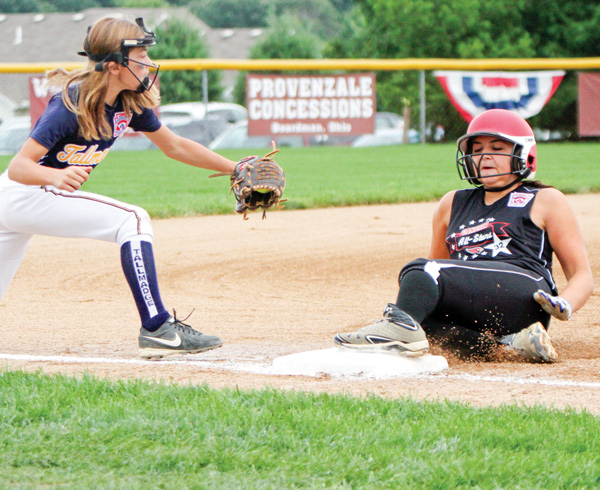 ---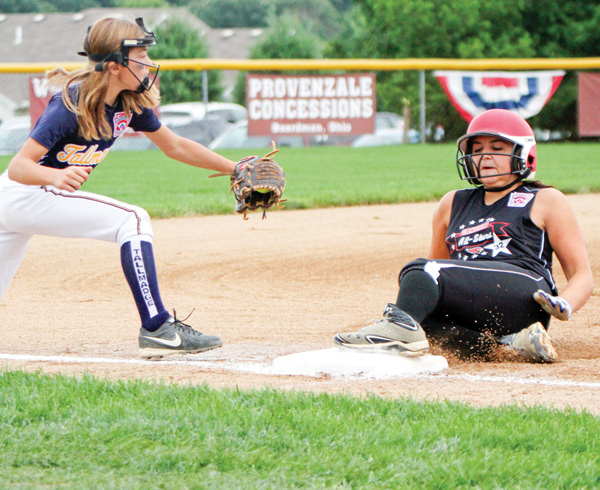 Photo
Canfield baserunner Lauren Fitzgerald is safe at third base during Tuesday's 4-0 win over Tallmadge. Defending is Tallmadge's Gia Casalinova.
BOARDMAN
Lauren Fitzgerald pays no attention to statistics while she's in the pitching circle.
Neither does her catcher, Bridgett Kelly, behind the plate. Or her father, Marty, who is also Canfield's 9-10 softball manager.
At least not on Tuesday afternoon at Boardman's Fields of Dreams.
They, and the rest of the Canfield softball team, were focused on winning a state championship, which is exactly what they did with a 4-0 victory over Tallmadge All-Stars.
Fitzgerald just happened to throw her second no-hitter of the state tournament — the first was a combined effort with Emma Castronova.
"Well, I know that she's gonna pitch three outs and there's gonna be three strikes every batter, because nobody can really hit her," said Kelly, who was busy behind the plate and in the batter's box. "So it is kind of easy to keep track."
With Fitzgerald in command of Tallmadge's hitters, Kelly came up with clutch at-bats for Canfield.
In the bottom of the first inning, Fitzgerald reached on a fielder's choice and made her way to third base after a steal and a throwing error.
With two outs, Kelly drove her in with a base hit to give Canfield an early 1-0 lead.
"She's been working hard on getting her swing level and she just connected on a couple and she was one of the play makers today," Marty Fitzgerald said.
The top of the order got things going again for Canfield in the third. A leadoff walk and a pair of one-out singles loaded the bases for Kelly, who again came through with a clutch base hit.
Erin Chaplow and Castronova scored to give Canfield a 3-0 lead.
"It felt really good because [Sunday] we played this team and I wasn't hitting very well," Kelly said. "I knew that I could hit better."
That was plenty of run support for Fitzgerald, who struck out 10 Tallmadge hitters and allowed just two baserunners to reach third.
"Lauren has been amazing on the mound through this run," said Marty. "She's held it together, not just the physical part of it, but the mental pressure. "She's handled all that very well."
Fitzgerald and Kelly hadn't worked together as a pitcher-catcher battery before their postseason run. They played on a travel softball team before this year, but Kelly didn't catch for Fitzgerald.
"We already had a bond, so that was good," Fitzgerald said. "This was a new experience and I really like it."
Kelly reached base in all three at-bats and Castronova was 2 for 2 with two runs scored for Canfield.
"It was probably our most complete game we've played as a team," Marty Fitzgerald said. "I asked them to play their best game and they played their best game today."