Standoff in south Youngstown ends quietly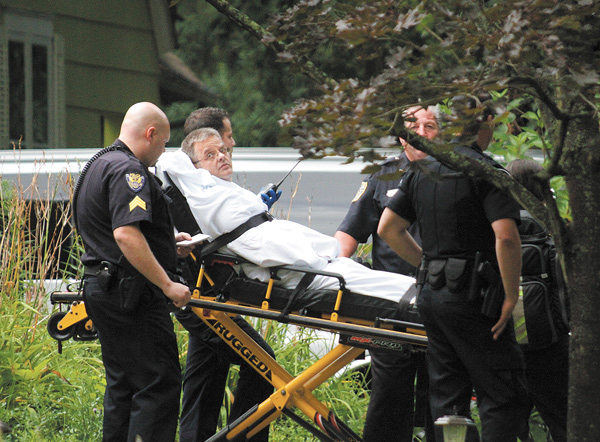 ---

Photo
Glenn Fulton, 50, of Youngstown, accused of leading police on a high-speed chase and barricading himself in a Kiwatha Road home, is moved on a stretcher after negotiations with police.
YOUNGSTOWN
A high-speed chase led to a standoff that ended peacefully Monday after negotiations.
The episode started early Monday when Vienna Township police were called to an incident at the boundary of Vienna and Fowler townships in Trumbull County. A neighbor saw a man, alleged to be Glenn Fulton, 50, of Youngstown, kicking in the back door of a residence, Vienna Township Police Chief Andy Pecchio said.
"The neighbor attempted to pin the suspect in [using his car], but the suspect rammed the car and kept going," Pecchio said.
Vienna police caught up with the black Honda CR-V that fled the scene and attempted to pull it over, he said. At that point, the vehicle sped off down state Route 11. The chase reached speeds of more than 100 mph, he said.
"The chase continued to the city of Youngstown. At that point, Vienna Township officers stopped the chase for safety reasons," Pecchio said.
A captain with the Youngstown Police Department saw the CR-V while at another call, however, and officers were able to track the vehicle to 3025 Kiwatha Road, YPD Lt. John Kelty said.
The suspect then barricaded himself in the home, Kelty said. After talking to Fulton, negotiators were able to persuade him to leave the home without any further incident.
Fulton had to be taken from the home to receive medical treatment based on a drug addiction, Kelty said. It was believed the alleged burglary attempt also was related to the drug addiction.
Fulton is not a resident of the Kiwatha home, but he did occasionally stay there with friends, Kelty said.
Another person at the home was taken into custody by the U.S. Marshals Fugitive Task Force on a warrant from Mahoning County on a charge of receiving stolen property.
Kelty said it is possible that the other suspect might have received the stolen property from Fulton.
Pecchio said Vienna police were able to recover some stolen items from the residence, including jewelry.
"It seemed as though [Fulton] was trying to take anything he thought he could sell," Pecchio said.
Fulton will face a number of felony charges, Pecchio said.