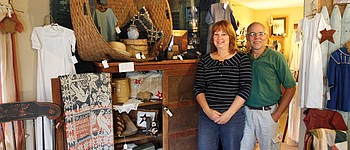 Each Cracked Crock piece 'meant' for someone
Published: 7/29/14 @ 12:15
By Kalea Hall
CANFIELD
Each antique piece in Linda Matulek's shop is meant for someone, she says.
Although they may be imperfect, each piece will one day find its home.
Matulek has been in the antique-shop business since 2011, and she enjoys each day, although she never thought she would find another passion like the one she had as a special-education teacher.
"I never really thought there was life after teaching," she said.
The history of her business starts from the beginning of her collection hobby. Her passion was and is crocks — a pot or jar used to store wine and other items. When she first started collecting them, she could afford only the cracked crocks. But that was OK with her.
"I like things that aren't perfect," she said.
She went to antique shows for years while she taught at Leonard Kirtz School in Austintown. She met her husband, Joe, while teaching and credits him for leading her to this path of running her own antique shop because he planted the seed for her to retire after teaching for 31 years.
She also met her shop's landlord at the school. A co-worker at Leonard Kirtz owns the house where the shop is located at 361 Lisbon St. and was in search of a tenant.
"How about an antique shop?" Matulek asked her co-worker at the time. "I went to her home and under her deck was an old crock that was cracked."
The cracked crock she found is at the base of the Cracked Crock sign outside the shop.
"So everyone has had their path," she said.
Every item she sells has its path, too. Matulek focuses on the primitive style. She has items from doll socks to an antique pie safe and an assortment of christening clothes that all made a journey to her shop.
Many pieces in her inventory are from all over the country. She notes on most of the price tags where she picked up the piece.
"It's preserving history," she said. "The primitive side is my calling. To me, primitives are warm and they draw you in."
Prices at the Cracked Crock range from $8 for smaller pieces to $1,100 for larger pieces such as furniture.
In each room, there are items almost hidden until the right person comes in to find them.
Matulek gets attached to some of them, such as the pie safe that has a little mouse she made out of wool sticking out of a hole in the drawer. Matulek also makes custom curtains and drapes and sews by request.
"Everyone has their own taste," she said. "It's a reflection of who we are."
Every three to four months, the Matuleks change the shop to keep it interesting for her customers.
The Cracked Crock is open from 10 a.m. to 5 p.m. Wednesday and Thursday; 10 a.m. to 4 p.m. Friday; and 10 a.m. to 3 p.m. Saturday. The shop is closed Sunday through Tuesday.
Don't Miss a Story
Sign up for our newsletter to receive daily news directly in your inbox.