Sound of pads pleases Pettine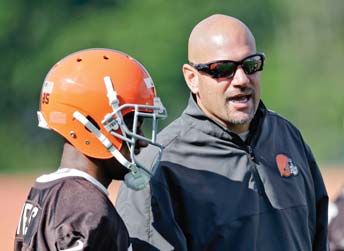 ---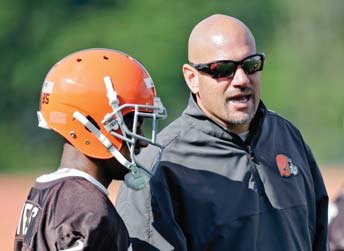 Photo
Browns head coach Mike Pettine talks with wide receiver Chandler Jones during practice at the team's training camp in Berea.
Associated Press
BEREA
Behind his stylish sunglasses, Browns first-year coach Mike Pettine stayed cool and showed little outward emotion on a day he had been looking forward to for months.
On the inside, Pettine was glowing.
The Browns practiced in full pads. Real football — at last.
For the first time since training camp opened, the Browns weren't just running around the manicured fields behind their training headquarters in helmets, jerseys and shorts. They wore shoulder pads, thigh pads, hip pads, knee pads and whatever other protective padding NFL players decked out in these days.
Pettine was eager to "hear" practice, and afterward said he was satisfied with the popping, crunching, hard plastic-on-plastic sounds that also delighted another overflow crowd of Browns fans.
"I was pleased," Pettine said. "For the first day in pads, I thought our guys were solid. I thought they did a good job of taking care of each other."
Pettine had warned his players not to take things too far. During an inside running drill, he told his defensive players only to "thud" the running backs before turning them loose and allowing them to continue down field.
Several times, coaches yelled "Stay up!" as they reminded players to remain on their feet and off the ground.
Once, defensive back Johnson Bademosi got a little carried away and came up and blasted wide receiver Nate Burleson near the helmet after a reception, spinning his teammate around. Pettine quickly waved his hand under his chin, signaling for Bademosi to "cut it out" before someone got hurt.
"It's football, and sometimes, instincts just take over to kind of drop the shoulder, but we don't want to do that to each other," Pettine said. "That still falls to competitive not combative.
"That stuff's not going to help them make the team. We want to be tough. We want to be nasty, but we want to play within the rules, and we certainly want to protect each other when we're practicing."
Later this week, the Browns will replicate game conditions by allowing their defensive players to tackle runners to the ground.
Pettine wants the Browns to be tough, an essential characteristic for any team in the AFC North, home of the Baltimore Ravens, and Pittsburgh Steelers, two of the league's most notoriously rough teams. And it's not as if the Cincinnati Bengals are lightweights either.
Pettine, a former defensive coordinator with the Jets and Bills, wants a team of tough guys — not just a couple rugged characters. That's why the Browns will have a period of the inside running drill from here on out.
"It'll be let's line up and see who can play," Pettine said. "To me, it's the counterpart of when we do seven on seven. That's usually advantage offense — clear pass rush, no throwing lanes — whereas that inside drill should be advantage defense. It's more of a mentality thing. We want to come off. We want to block people. We want to get off blocks. We want to knock people back. If we want to establish that mentality, we have to do that drill."
Rookie quarterback Johnny Manziel struggled for the second straight day. He fumbled a snap, overthrew a few receivers and forced a pass that was intercepted by Chris Kirksey.