Sisters reach out to young cancer patients and their families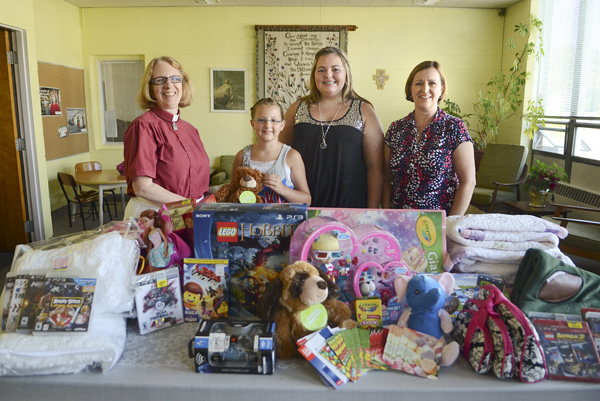 ---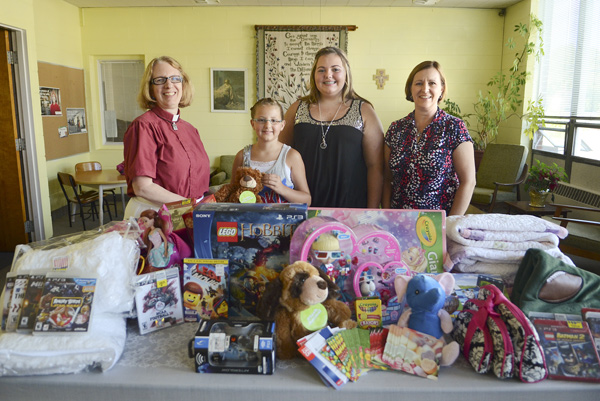 Photo
Mariah Leskovac, 10, second from left, and her sister, Destiny, 13, third from left, created Mariah's Destiny to collect donations of new items such as toys and games for sick children. The idea evolved from Mariah's cancer diagnosis, treatment and recovery. The sisters received donations at their church, Trinity Lutheran in Niles, where the Rev. Dee Emmert, left, is pastor. Accepting donations is Sue Neitz, right, stem-cell transplant coordinator at Akron Children's Hospital.
Sisters reach out to young cancer patients and their families
By LINDA M. LINONIS
McDonald
When Mariah Leskovac had cancer, the family was overwhelmed with the generosity of people and enveloped by support from their congregation at Trinity Lutheran Church.
Mariah, now 10 and cancer-free for the past five years, and her sister, Destiny, 13, created the project, Mariah's Destiny, to reach out to young cancer patients. Their effort involves the collection of blankets, stuffed animals, games, movies and craft kits for Akron Children's Hospital. All donations must be new items because the recipients have fragile immune systems. The sisters shared the idea at their church, which is supporting it, and also spread the word through a Facebook page.
When Mariah was 4 years old, she was diagnosed with a rare childhood cancer, stage 4 neuroblastoma. During the next five years, Mariah had many doctor visits and hospitalizations including stays at Akron Children's Hospital and Memorial Sloan Kettering Cancer Center in New York. She underwent tests and treatment including surgery for a tumor, seven cycles of chemotherapy and radiation.
Sue Neitz, stem-cell-transplant program coordinator and nurse practitioner at Akron Children's Hospital, explained that Mariah's stem cells were harvested early in her treatment through a process called apheresis then frozen and stored for future use. After she underwent chemotherapy, Mariah's stem cells were transplanted into her bone marrow. Neitz explained that after the transplant, it took time for the stem cells to repopulate in Mariah's body. "She had no immune system and couldn't fight off any germs," Neitz said. Mariah spent 30 days in isolation as her body recovered and her immune system strengthened.
Neitz said the hospital "will follow Mariah for the rest of her life." Mariah also experienced a hearing loss and wears hearing aids.
"This wasn't easy on her," Andrew Leskovac said of his daughter's experience.
In an essay she wrote, "The Survivor I Am," Mariah noted she remembered being sick and in pain, but other memories were of things that made her happy. That included watching the movie, "Annie," about three times a day and getting small gifts, toys and blankets from volunteers. Mariah remembered how her mother, Mary Debevec, and father spent time with her in shifts and brought her favorite foods such as spaghetti. In her essay, Destiny wrote, "The Lord blessed us, and we will share that blessing."
Debevec said the kindness Mariah encountered in the hospital often "made her day." She also noted her daughter loved visits from therapy dogs.
Though the medical crisis was frightening for the family, Debevec said the experience had some positive aspects. She said Mariah and Destiny are more aware of the importance of helping people, being kind and sensitive to how others are treated. "They're wonderful kids who want to help other children," she said.
Throughout the medical ordeal, the sisters saw other children and families going through similar experiences. When Mariah was well, the two decided they wanted to thank all the people who helped by doing something for sick children and their families. Leskovac said his daughters came up with the idea to collect donations that would go to Akron Children's Hospital.
"Though insurance may pay for medical bills, there are many out-of-pocket expenses," Leskovac said. Spending $40, $50 or more on gas weekly wasn't unusual, he said of hospital trips. Mariah's Destiny accepts donations of gas and gift cards, which help families with extra expenses. A recent luncheon at Trinity Lutheran Church garnered monetary donations of $1,350 for this purpose along with donations of new items that totaled $1,600.
Mariah, a fourth-grader at Roosevelt Elementary School, and Destiny, a seventh-grader at McDonald High School, plan to continue the collection of donations.
The Rev. Dee Emmert, pastor of Hope Lutheran Parish, which includes Trinity, said, "We're so proud of Mariah and Destiny and what they're doing. They recognize people helped them and want to do something in return."