The victory was Mahoning Valley's 11th in its last 16 games.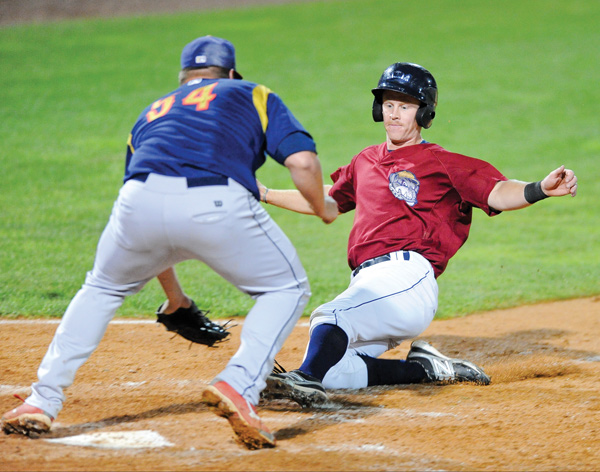 ---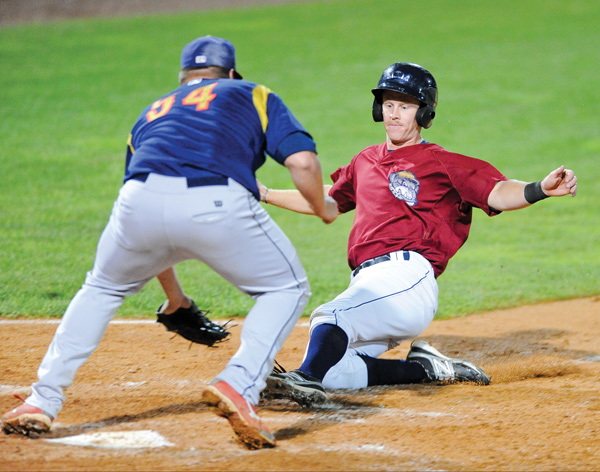 Photo
Scrappers baserunner Austin Fisher is tagged out by State College pitcher Kyle Grana when Fisher tried to score on a passed ball in Monday's game at Eastwood Field in Niles.
By Steve Ruman
NILES
In early July, it seemed as though everything that could go wrong went wrong for the Mahoning Valley Scrappers. The team lost eight straight, owned a 10-21 record and was on pace for the worst record in franchise history.
Since then, the Scrappers have not only righted the ship, but they are finding unique ways to snatch victory from the jaws of defeat.
On Saturday, the Scrappers defeated Williamsport, 5-1, despite the fact they were no-hit for nine innings.
On Monday, the Scrappers rallied to defeat State College 3-2, scoring the tying run in bizarre fashion before second baseman Steven Patterson won the game with a two-out single.
The victory — Mahoning Valley's 11th in its last 16 games — moves the Scrappers (19-25) just three games behind the pace in the wildcard chase of the New York-Penn League.
"I think we hit a brick wall earlier this season," Patterson said. "We were tired, and we were just trying to force things to happen and force ourselves to win rather than just playing the game and letting things take care of themselves.
"Once we got on a roll, the momentum has led us to do the things we've been doing lately."
On Monday at Eastwood Field, 1,862 frigid fans watched the Scrappers' offense struggle for most of the night. State College pitchers faced the minimum through five innings before the Scrappers cut their deficit to 2-1 in the sixth. Ordomar Valdez tripled with one out, then scored on an Austin Fisher groundout.
The game remained in the Spikes' favor until the Scrappers scored two runs in the eighth.
The Scrappers tied the game at 2 when Josh McAdams led off the inning with a walk, advanced to second on a passed ball, went to third on a wild pitch and scored on a balk.
"It's kind of funny, we had those sort of things happen to us earlier this year, now they are working in our favor," Patterson said. "That's just how baseball works. Things seem to even out."
Four Scrappers reached base via walks in the inning, and Austin Fisher reached on a single. However, Juan De La Cruz was gunned down at the plate when he tried to score on Fisher's single. Fisher later tried to score on a wild pitch, but was thrown out by the catcher. But with two out and the bases loaded, Patterson came through with a single to center to drive in what proved to be the winning run.
Greg Allen was intentionally walked in front of Patterson, who went 2 for 3 with a walk.
"I was a bit surprised that they walked Greg to load the bases, because [Spikes pitchers] were a little erratic to that point," Patterson said. "Once I got ahead in the count, I knew they would have to come at me and I was focused."
Scrappers starter Sean Brady (2.12 ERA) worked five innings, scattering six hits and giving up one earned run while recording five strikeouts. Reliever Luis DeJesus (3-3) pitched three scoreless innings to pick up the win while Luke Eubank struck out the side in the ninth to earn the save.
Patterson believes the Scrappers — who conclude a three-game series with the Spikes tonight — are primed to make a playoff run.
"We have confidence, and there is no reason we can't keep playing the way we are," Patterson said. "I think we can surprise a lot of people."