Campbell PD offers money, promotions for physical fitness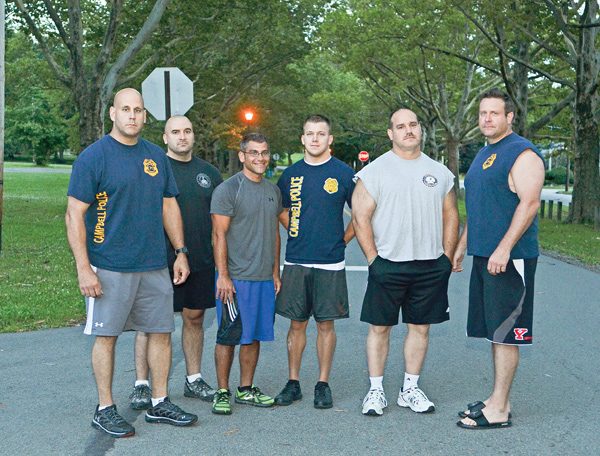 ---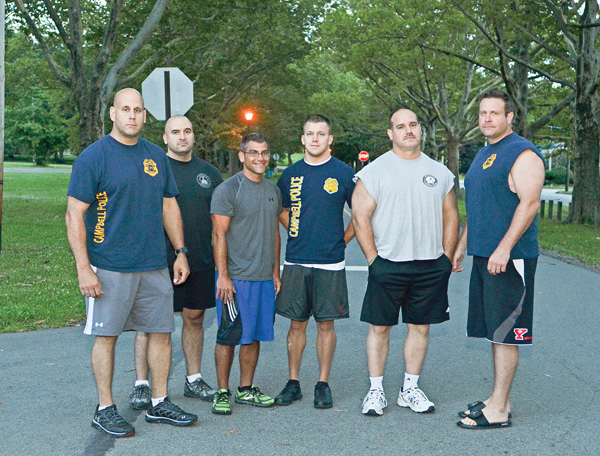 Photo
Eight of the Campbell Police Department's 13 full-time officers elected to take — and passed — a physical-fitness exam Sunday, and each will receive a $1,000 stipend for their efforts. Drew Rauzan, the department's chief who is pictured at the far right, passed the test as well, but was not eligible for the stipend. Also pictured are, from left, Rob Vukovich, Joe Pavlansky, John Gulu, Bobby Curtis and Mitch Zupko.
By EMMALEE C. TORISK
campbell
On Sunday, for the first time in the Campbell Police Department's history, its physically fit members were rewarded — monetarily — simply for being in shape.
It's a move that Chief Drew Rauzan calls "a huge victory for the city of Campbell."
"It is another positive step [for] a police department that continually improves its level of service to the community," Rauzan said.
Eight out of the department's 13 full-time officers elected to take the physical-fitness exam, which required the successful completion of both a general strength-measurement exercise and a mile run. All eight participating officers, ranging in age from 26 to 53, passed the test — and each will receive a $1,000 stipend.
Rauzan explained that the clause granting a monetary stipend to full-time officers who are deemed physically fit was approved during this year's contract negotiations between the city and the Fraternal Order of Police, which represents unionized officers. Officers are able to receive the stipend only once each year, but may take the test more than once in a year if they don't pass it.
The city's agreeing to the clause shows its commitment "toward the fitness of its officers" — something Rauzan said also could reduce the amount of sick time used and even lower health-care premiums within the department. A healthier department is less susceptible to preventable medical conditions such as diabetes and heart disease, he added.
Though Rauzan participated in the exam with his officers and passed it, he is not eligible for the fitness stipend because he is not an FOP bargaining member.
The physical-fitness exam was designed by Rauzan and Mitch Zupko, an officer within the department, and it draws from many sources, including the American Heart Association, Livestrong, the Ohio Peace Officer Training Academy and even the Campbell Police Department.
Option A of the exam requires the officer to performing one bench press repetition with a bar weight equal to a certain percentage of his body weight, or complete several pull-ups.
Men between age 21 and 29, for example, must bench press 100 percent of their body weight, while women in that same age group will pass that portion of the test by bench pressing 65 percent. In the other option, regardless of age, men are required to perform seven pull-up exercises, and women must perform three.
The second portion of Option A requires the officer's running one mile; again, the passing times vary by age and sex.
Option B of the physical-fitness exam calls for running two miles.
"Campbell is attempting to create an environment where higher physical standards will become the norm," Rauzan said, "and bare-minimum fitness is the anomaly."
The very same exam also will be used to evaluate applicants interested in full-time officer positions, as well as to test those existing full-time officers who would like to be promoted within the department to sergeant, lieutenant or chief.
Sgt. John Rusnak said another exam will be scheduled for later this year.
He added that within the department, the test is "a good incentive to stay in shape" — but that it also sets an example for surrounding police departments. He's not sure of too many area departments who have adopted a similar policy.
"[It says], 'Look at what this department's doing to make their community safer,'" Rusnak said. "I hope this never leaves."