Shockstrip founder hopes to change football forever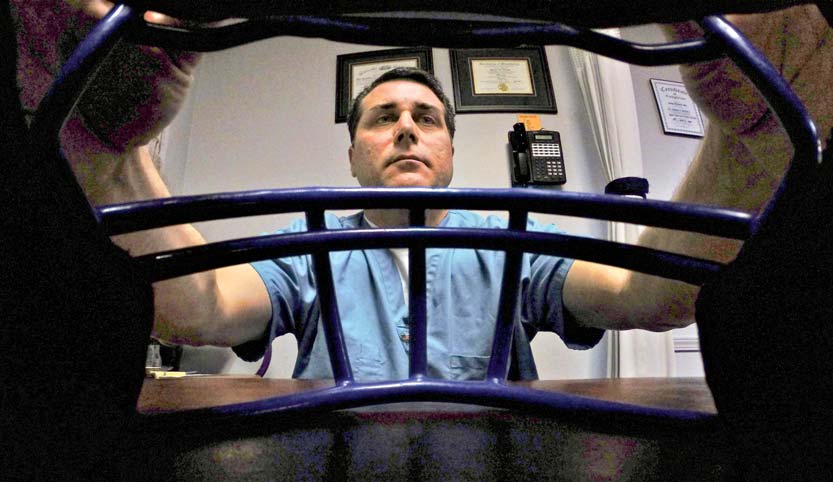 ---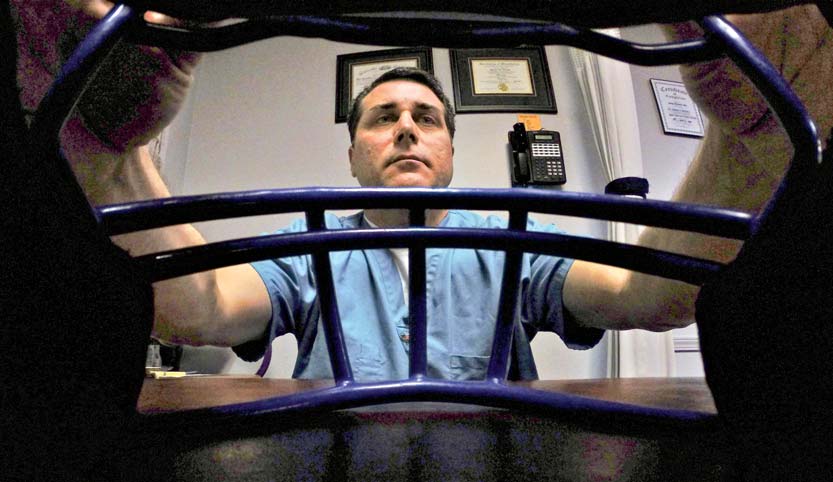 Photo
A back injury in college inspired Dr. Steven Novicky to become a chiropractor who treats athletes. In 2010, Dr. Novicky created Shockstrips, padding that is added to helmets to protect against concussions and head injuries.
By AARON ONDREY
TheNewsOutlet.org
At 18, Dr. Steven D. Novicky was well on his way to playing college football. Then a freak accident changed the course of his life forever.
He hurt his back while bending to pick up a football after practice. That injury set him on a path leading to the creation of a device to prevent head injuries in football players.
Dr. Novicky, 51, of Canfield said after being injured he didn't want to seek medical help. Instead he relied on painkillers.
"I was eating pills by the bottle, and my life was kind of spiraling downward," he said.
Finally, a friend forced Novicky to go to a chiropractor.
"My friend literally carried me into a chiropractor's office after a few weeks, and I decided that I had to do this. I had to help kids like he helped me," he said.
Dr. Novicky become a chiropractor, which meant he got to treat athletes. After seeing countless youths come into his office complaining about headaches and neck pain, specifically from football, he started researching ways to help them.
He examined the gear football players wore and decided the only way to prevent head injuries was to add something to the outside of the helmets. This led to the creation of Shockstrip in 2010.
Football, injuries, solutions
From 1997-2012, more than 427,000 children were taken to the emergency room suffering from a football-related concussion, according to the National Electronic Injury Surveillance System, which is operated by the U.S. Consumer Product Safety Commission.
The average age was 15. Nearly one in 20 suffered head injuries so severe the child had to be hospitalized, data showed.
While the number of concussions in football is large with an average of 29,780 emergency room visits a year, it's actually bicycling that causes the most sports-related concussions, according to the NEISS data. Football comes in second, followed by basketball, soccer and baseball.
Dr. Novicky wants to help lower these numbers in all sports.
He and his wife, Kim, founded Shockstrip Inc. as a way to do that.
Shockstrips are pads that are glued with a super-strong adhesive to the outside of helmets. These pads are designed to absorb and deflect impacts. The strips are made of a viscoelastic polymer, which was developed by Novicky and officials at Action Sports Inc., a sporting equipment company.
Outfitting a helmet with the strips costs about $50.
"People will ask, 'Why should I buy this?'" Dr. Novicky said. "I'm not a great neurologist. I was a concerned physician who went out and researched it, and brought in the right people to make a helpful product."
Shockstrip skeptics
With only four years since its invention, Shockstrip doesn't have a lot of field-testing or data to back up its claims of reducing head injuries.
"Linear-impact testing on the Shockstrips was done at Wayne State University [Detroit], and that's kind of a goal or standard of testing at this time, even though you'll have a lot of people argue that it's not the best way," Dr. Novicky said.
That testing showed helmets with the strips significantly outperformed helmets without — by as much as 41 percent, Dr. Novicky said. While that seems like a large number, it hasn't stopped some from casting doubt on the product.
Denny Kovach has been an athletic trainer for more than 40 years. He's traveled the world, working as a trainer at various colleges, in the National Hockey League and at the Olympics. He's seen every type of product that's supposed to prevent every type of injury. He's skeptical of Shockstrip.
"If they were good, the NFL would have them," Kovach said. "That's kind of the gold standard as far as equipment goes."
Kovach is the trainer for Canfield High School and the Youngstown Phantoms, a U.S. Hockey League team.
He said the best way to prevent head injuries in football players is to make sure the helmets fit players' heads. A proper fit ensures overall stability with the padding inside, the chinstrap and the mouthpiece.
Dan Lyons has coached football for 26 years at St. Charles School in Boardman. He followed his father and grandfather, who both coached there for more than 20 years. He also isn't sold on the idea of Shockstrip.
"To me, helmets are getting better and better," Lyons said. "I think it's unnecessary. It's a nice novelty, something to look at. Proven statistically to see that it's working? I doubt it."
Lyons coaches the fifth- and sixth-grade teams at St. Charles. He said as long as the players use the right equipment and follow the correct tackling techniques, nothing else is required.
Helmet strip supporters
Eric Wolford, head football coach at Youngstown State University, has seen the strips in action and liked what he saw.
"I actually have looked at them, and watched them used in a scrimmage," Wolford said. "They're definitely intriguing. I think they could get legs, but I don't know if the college game will allow a device like that on the helmets."
While Wolford's viewpoint seems cautious, another supporter is avid in his praise of the device.
Jeff Martig has been at Western Reserve High School in Berlin Center for 10 years, starting as a coach and, after two years, becoming an athletic director.
In 2011, after several football players suffered concussions, the school started using the strips.
"You can test everything all day in a lab all you want, but eventually it's got to go into the field for testing," Martig said. "For three years, we've been field testing it, and we've never had any kids with any spinal injury, or anything that led us to say we can't do this anymore."
Novicky became the team's trainer when the school started using the strips.
Shockstrip.com claims a helmet outfitted with the strips reduces angular acceleration by up to 10.5 percent and upper-neck-load stress by up to 21.9 percent.
In layman or football terms, angular acceleration has to do with how quickly a head rotates or turns upon being hit. Upper-neck-load stress is a measurement of how much stress is placed on an individual's upper neck.
Those numbers improve when the helmets involved in the impact are both outfitted with the strips, company literature claims. Angular acceleration is decreased by up to 12.3 percent, and upper-neck-load stress by up to 28.4 percent.
At Western Reserve, Martig is happy with the results, both statistically and by actual use.
"In the three years we've used the Shockstrip, we've never had a kid come out of the game," he said. "A lot of our kids say they won't play without it, and to me that's testament enough."
Strip use spreads
Players from more than 30 teams in the region and across the country use Shockstrip. Novicky said not one of those teams has had a player come out of a game because of concussion, nor have they seen a concussion in practice or a game.
Three teams at three different levels have every player using the strips. And all three have won championships at some level.
Western Reserve won the regional championship, the Westside Patriots Youth Football team has won eight straight championships in the Northeast Ohio Youth Football League, and New York's Finest Semi-Pro football won the Fun City Bowl in 2013.
"It's no coincidence. I think the players are more confident, are taking less of a beating on the field, then they can outlast their opponents," Novicky said.
He said he has pitched the product to several colleges, professional football and hockey teams. Novicky said some team officials have been pleased with what they've seen, and have given him feedback on what they want.
YSU is one of the schools entertaining the idea, Novicky said.
"There's obviously been some work behind it, some research," said Wolford. "It could definitely be something we participate in."
A sticky situation
The biggest challenge for Shockstrip has come from helmet companies, Dr. Novicky said. They don't like anyone altering their products.
Helmet companies won't cover adding the strips to their helmets in their warranties. They claim some helmets have to be re-made instead of re-conditioned if they've had the strips on them. That's because the adhesive used on Shockstrips leaves a residue that can't be cleaned off. While Dr. Novicky is trying to improve the adhesive to make the strips easier to remove, those efforts might not pay off.
Rich Burke, a representative for Xenith helmets, said the strips aren't necessary or practical with his company's helmets.
"When properly fitted, Xenith helmets are as safe as anything that a football player would need," Burke said. "Shockstrip can be used with our helmets, but it cancels the warranty, which makes it much more expensive to work with."
Martig said Western Reserve switched from Xenith helmets to Riddell because of the warranty limitations, as well as the complications that the school had dealing with Xenith because of Shockstrip.
"We've gotten the support of the school board, the community, and the parents," Martig said.
Dr. Novicky hopes that support will lead to widespread usage of his product, which he says can change the game of football forever.
"We're hoping it's a device that helps football progress into the sport it should be."
TheNewsOutlet.org is a collaborative effort among the Youngstown State University journalism program, The University of Akron, Cuyahoga Community College and professional media outlets including, WYSU-FM Radio and The Vindicator, and The Beacon Journal and Rubber City Radio of Akron.