Struthers to wrap up yearslong project addressing erosion in backyards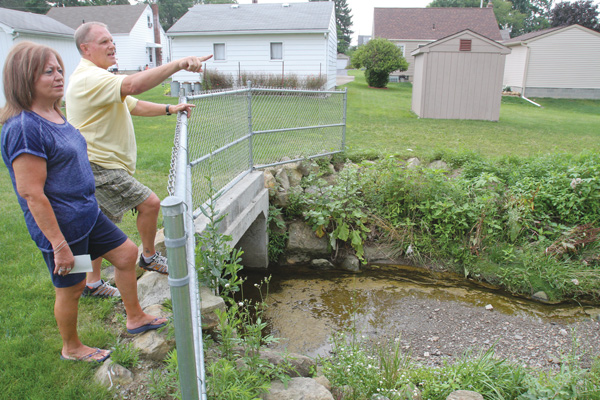 ---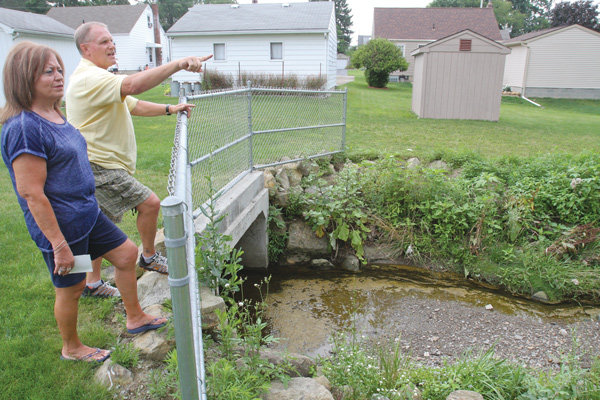 Photo
Gary and Joanne Kalbasky look over a creek in the backyard of their Judith Lane home in Struthers. They are hoping a new project will cover the creek and correct erosion problems it creates.
By EMMALEE C. TORISK
STRUTHERS
When Gary and Joanne Kalbasky moved into their Judith Lane home 38 years ago, the creek in their backyard was small and unobtrusive, stretching barely a foot wide.
"You were able to step over it," Gary said.
"It was kind of cute," Joanne added.
About 25 years ago, the problems began. Year by year, the creek grew more and more until crossing from one side of the yard to the other became an endeavor better left unattempted.
"You had to step over, then hop over, then jump over," Joanne said.
It wasn't just wide. It was also deep. At one point, when the water was probably at least 4 feet from top to bottom, kids with rafts actually floated down, attempting to river-raft. Rapidly rushing water brought everything else, from a practically immovable rock to one-third of a telephone pole, into the Kalbaskys' backyard, as well. The problem was erosion.
"You don't know what's going to come crawling out of that sewer," Gary said, adding that he's thankful no one ever got hurt.
The Kalbaskys aren't the only ones impacted by the ever-widening creek, however.
Gary estimated that about eight to 10 people just on Judith Lane — a half-circle of road that stretches from Creed Street to Eighth Street — also have been affected. He said the creek itself probably runs "a good 5 miles" and has eaten up property along much of that route.
In 2009, the city installed new piping, water-quality detention ponds and a box culvert in the area. It also widened the creek, which cleaned the water and slowed its impact, preventing flooding downstream.
But a lack of money prevented the city from extending this work to Eighth Street, as originally planned.
In the Kalbaskys' backyard, for example, a portion of the creek was filled in, and grass now covers that area. There's no sign of the creek that once wove its way through — except, of course, for the part that escaped the city's attempt at getting rid of it.
The creek should be gone once and for all by the end of this year, though, thanks to grants from the Ohio Public Works Commission, said Mayor Terry Stocker. With the $57,270 grant, along with the city's match of $25,730, the second phase of the Judith Lane/Spring Street Stream Restoration Project will finally restore backyards — and property values.
"We want to improve the quality of those backyards, so they're not losing more than what they already have," Stocker said.
He added that bidding for the project will take place in the next couple of weeks, followed by a pre-construction meeting. The meeting, he said, will help to ensure that "nobody is going to be blindsided by some obstacles we have to get around." Those include bridges and fences that might have to be removed during the construction process.
But both Stocker and the Kalbaskys agreed that any inconveniences are minor, compared with the payoff.
Once completed, the project might even help a house near the Kalbaskys' sell. People who recently stopped by to look at it weren't too impressed by the divided backyard.
"Who would want this in their backyard?" said Joanne, who, with a wistful look on her face, mentioned the swimming pool that could have been on their own property. "We're appreciative to the city for helping all this neighborhood to fight for this, and we're here to stay."