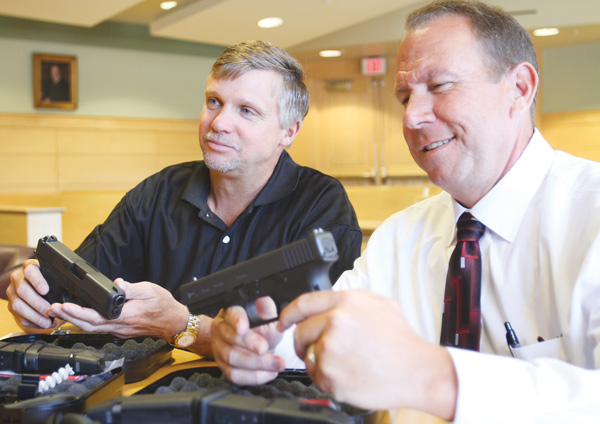 ---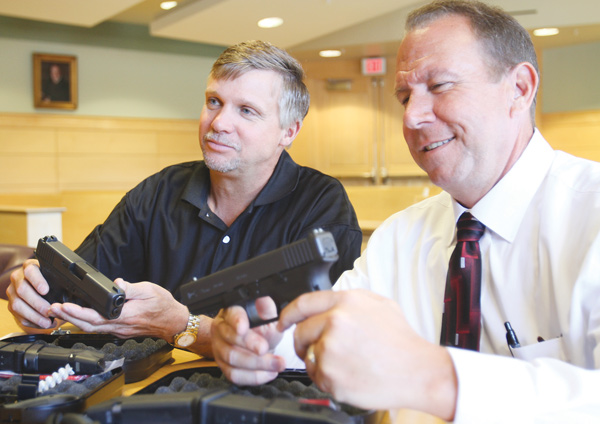 Photo
Girard Municipal Judge Jeffrey D. Adler, left, and Girard Police Chief Jeff Palmer look over new guns purchased with court funds for the police department. Judge Adler allocated $10,500 from the fund for 22 .45-caliber Glocks.
GIRARD
Twenty-two veterans have retired from the Girard police force recently after more than 15 years.
Their replacements already are on the streets. It's their first jobs in law enforcement, and though they do not have the age or experience of their predecessors, they are lighter and faster, and Police Chief Jeff Palmer has a great deal of confidence in them.
He has Judge Jeffrey D. Adler of Girard Municipal Court to thank for them, too, he said Friday afternoon, as he and Judge Adler met in the judge's courtroom to show off one of them.
He is grateful, he said, and so are the 22 police officers who now get to work with their new .45-caliber Glocks.
Judge Adler gave the police department $10,500 from a court-costs fund in February to buy the guns. They have replaced the heavy old Sig Sauers the officers were using.
"You can tell the difference in firing," Palmer said. "Glocks are easier to handle, and that helps your accuracy."
With some in-house instruction and some practice on the range, officers were ready to use them, he said. The guns cost $13,000.
The $10,500 Judge Adler allocated came from the court's Special Projects Fund, which accumulates a part of court costs from each criminal and traffic case.
The funds can be spent on rehabilitation projects for the courtroom to community-service probation projects, Judge Adler said.
Past projects have included buying lawn mowers and a trailer for them so that defendants on probation can mow grass at abandoned properties in the city.
This year, Judge Adler also allocated money to the probation department for a two-way window and a secure door, he said.
There is $126,000 in the fund right now.
The officers had the option of buying their old Sig Sauers, and the department will use that money also toward the purchase of the Glocks, Palmer said.