Tyma-Gonzalez wedding vows are scheduled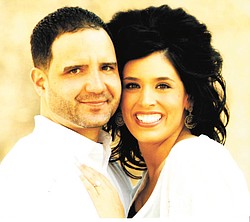 Photo
Paul Gonzalez Jr. and Jocelyn M. Tyma
Jocelyn Marie Tyma of Boardman and Paul Gonzalez Jr. of Youngstown are engaged, their parents are announcing.
She is the daughter of Anthony M. Tyma Sr. of Canfield and Mr. and Mrs. Stefan J. Moser II of Hubbard. He is the son of Paul Gonzalez Sr. and Marilyn Montes, both of Youngstown.
The couple will exchange vows during a Nov. 8 ceremony by invitation at The Lake Club, where a reception will immediately follow.
The bride-elect attended Youngstown Sate University and works for Roth Bros. Inc./Sodexo Co. as a national service dispatcher.
The prospective groom attended Lakeland College and is a self-employed barber in Austintown.