Bankses' 50th honored with party and trip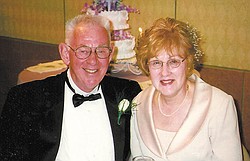 Photo
Mr. and Mrs. George Banks
POLAND
George and Barbara Banks of Poland were honored for their golden anniversary at a party July 4 with family and friends at Elton Beard Cabin in Boardman Park.
It was hosted by their children, David Banks of Painesville, Ohio, and Amy Banks of Poland.
As part of the celebration the family traveled to St. Lucia last winter.
The former Barbara Schmolder married Mr. Banks July 4, 1964, at St. Nicholas Church in Struthers.
Mr. Banks retired from Youngstown City schools as a school psychologist. He is a member of Ursuline High School Alumnus and was chosen its man of the year in 2008. He earned degrees from Youngstown State University, Westminster College and Kent State University.
Mrs. Banks taught Latin and English at Canton Central Catholic and Struthers High schools. She is a member of the first graduating class of Cardinal Mooney High School and is a graduate of YSU. She is a docent at the Butler Institute of American Art, vice chairwoman on the board of Stambaugh Pillars, a sustainer of Junior League of Youngstown, president of the Flower Wagon Garden Club, vice president of Catholic Collegiate and Phi Mu alumnae, and a member of Youngstown Panhellenic and Celebrate Poland committee.
The couple are members of Holy Family Church.