Askeys celebrate 50th mark with family dinner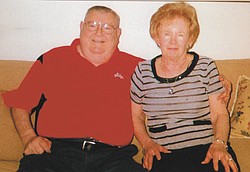 Photo
Mr. and Mrs. Dale D. Askey
WARREN
Mr. and Mrs. Dale D. Askey of Warren celebrated their 50th wedding anniversary on May 9 with a family dinner at Cafe 422.
Mr. Askey and the former Judy Lynne Clausen were married May 9, 1964, at St. John's Episcopal Church in Youngstown.
Mrs. Askey was an elementary teacher for West Branch school system, Warren City schools, Trumbull County schools and the Military Dependent School in Bad Kreuznach, Germany.
Her husband was a district executive for the Boy Scouts of America in Youngstown, Findlay, Wheeling, Warren and Akron. He retired from the Albert Guarnieri Wholesale Company and served in the Eighth Infantry Airborne Division of the U.S. Army.
The couple have one son, Dale D. (Kelly) Askey of West Carrollton, Ohio.