Redemption key for Juniors at championship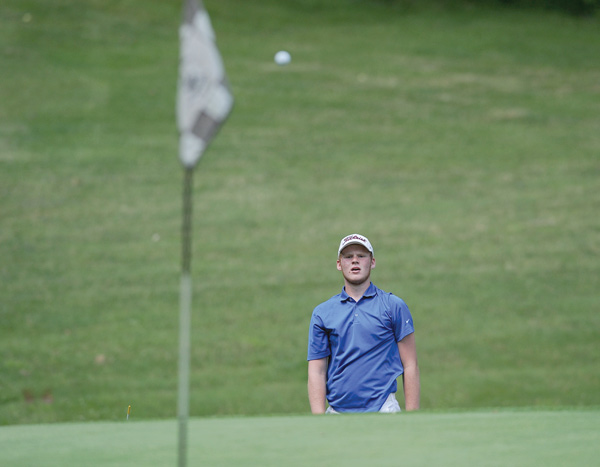 ---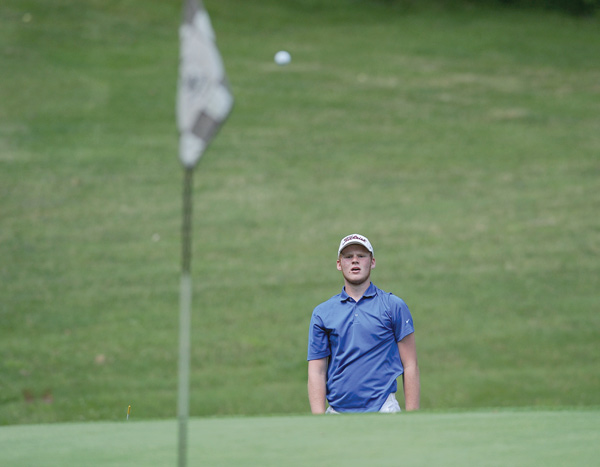 Photo
Nolan Snyder watches his shot drops near the hole on the 14th hole at Diamondback Golf Course during a recent Greatest Golfer qualifying tournament.
Redemption can take on many different forms or meanings.
For Western Reserve senior Nolan Snyder, it's all about atonement.
In last year's Vindicator Greatest Golfer of the Valley Junior championship, Snyder was in the thick of the boys 17-and-under division before a disastrous back-nine and a bogey on the first playoff hole forced him to settle for a third-place finish.
Since then, Snyder's played a lot of rounds of golf. But he can't seem to get that one stretch out of his mind.
"Not only did I throw it away in the playoff, but I managed to rattle off five straight bogeys on the back nine down the stretch," Snyder recalled of his round of 78 at Trumbull Country Club last July.
"It's been motivation for this year," Snyder said. "All season since the qualifiers have started, I've been thinking redemption."
His first shot at achieving it went poorly. He shot a round of 91 at Pine Lakes Golf Course in this year's first qualifying event.
Not exactly the return he was hoping for.
"Yeah, I got a rude awakening at Pine Lakes," Snyder said. "I think I realized my game wasn't there yet and I couldn't expect to just get back there easily."
A month later, he made the necessary next step to getting back. He qualified with an impressive round of 71 at Tam O'Shanter Golf Course.
It might not have given him the same satisfaction as a win last year in the finals would have, but it was a step.
"I've put in the work and had the mindset to come back and win it," Snyder said. "Now I'm very excited, obviously, to get the opportunity to compete for a championship once again."
With returning champion Billy Colbert also in the field, Snyder will have his work cut out. Colbert, a senior at Hickory High School, qualified with a round of 77 at Pine Lakes. He followed that up with rounds of 77 and 73 in two other qualifiers he competed in.
"Billy's a great player," Snyder said. "You can never count him out.
"Ken [Keller] will be back from the Optimist and he's tough competition as always," Snyder said. "Any of the other winners are. All of us are capable of posting a low score."
Redemption on Sunday won't be limited to the boys. In the girls 17-and-under division, the top three finishers from last year's final will be in the field, and playing together on the course.
For 2012 champion Kaylee Neumeister, it's all about personal reclamation.
"I'm really hoping to improve my performance, both in my score and standing, from last year," said Neumeister, who shot a round of 80 at Trumbull last July. "I would love to get first or second, but I know it's a really strong field out there."
Neumeister's stiffest competition, defending champ Christina Cooper and 2011 winner Jacinta Pikunas, will be playing along side her.
Pikunas said she's feeling more relaxed heading into this year's final.
"Definitely last year, I think I felt a little pressure trying to live up to expectations," Pikunas said. "It's just golf. I just hope for myself that I play well and to the best of my abilities."
Neumeister, Pikunas and Cooper each won one of the first three qualifiers this year to set up a second act on Sunday.
"You know, golf is a game where you can't play defense," Neumeister said. "I can't worry about what they're doing. I know they'll come out and shoot and outstanding score.
"But I've put in the work, the extra practice, and I think I'm prepared."
The first group tees off at 1 p.m.