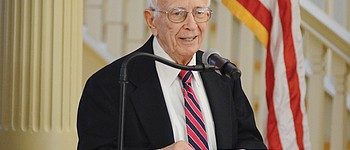 Arby's family unites to remember a Youngstown-born, global brand
Published: 7/25/14 @ 12:09
By Kalea Hall
YOUNGSTOWN
The Youngstown Arby's headquarters' employees were like a family.
Thursday night the family came together again in celebration of a 50-year-old brand that started right here in the Valley.
"The essence of our company was Youngstown," said Leroy Raffel, one of the founding brothers of the global chain.
Raffel and 150 guests, many his former employees, gathered for the Youngstown Arby's corporate office employees' reunion sponsored by the Mahoning Valley Historical Society. A panel discussion took place at 7 p.m. at the Tyler History Center with Raffel; Thomas Welsh, historian and author of "Classic Restaurants of Youngstown"; and Dr. Donna DeBlasio, professor of history at Youngstown State University.
"I never made a roast-beef sandwich," Raffel said in the panel discussion.
He didn't because his brother Forrest was the food guy. Before starting their restaurant, the Raffel brothers ran a food-service layout business.
To add to their business, they decided to start a roast-beef restaurant.
When Leroy told his wife about the new business venture, she said, "I wouldn't cross the street for a roast-beef sandwich."
But their idea blossomed and they perfected the product: a Youngstown-born Schwebel bun made special for the thinly sliced roast beef and the well-known and well-loved Arby's sauce to top it off — all for just 69 cents.
"Develop the product the people want and then price it," Raffel said. "We didn't invent roast beef, we just developed the concept."
The first Arby's restaurant — named after Raffel Brothers or R.B. — opened July 23, 1964, on U.S. Route 224 in Boardman. The corporate offices for the restaurant were located in Youngstown from 1964 to 1979.
The Raffel brothers started their restaurant with no investment — a thought that seems impossible, especially today.
By the next year, a second location opened in Liberty Township and the company continued to grow, with about 400 locations by 1976 when the company was sold to Royal Crown Cola. Today, there are about 3,400 Arby's locations internationally.
"Everywhere we went we were equally successful," Raffel said. "Everyone liked the sandwich."
Also beloved is the Jamocha shake — a concoction of the best coffee and chocolate in shake form, made by Forrest himself.
"We were making history," said Stephanie Sferra, a Youngstown Arby's corporate employee from 1974 to 1979.
Arby's was her first professional job as a graphic designer. Her department produced five publications and developed into public relations for the company.
"This is fantastic," Sferra said of the reunion.
She reunited with her boss, Sylvia Bryant Johnson, at the reunion. Johnson moved with the company's headquarters to Atlanta in 1979 and went on to open her own franchise in the 1980s.
"It was amazing [working there]," she said. "Leroy Raffel created a wonderful company for women to succeed in."
Joe Smaltz spent more than a decade at the Youngstown corporate office as vice president of licensing.
"It was like a family," Smaltz said. "It was a close family affair. It was very exciting."
Don't Miss a Story
Sign up for our newsletter to receive daily news directly in your inbox.