Reduce disease by using a cover crop this winter Forage radish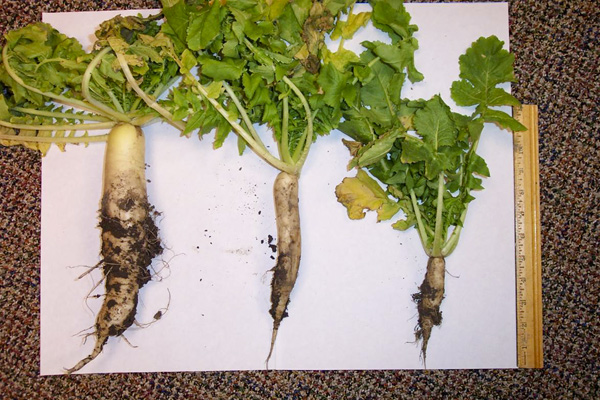 ---
By Hugh Earnhart
OSU Ext. master gardener volunteer
Because of space limitations, gardeners have a propensity to plant the same plants in the same space year after year. We know rotation would be the recommended procedure, but we can't find additional space. Thus, we have to look for help in other ways to fight weeds, diseases and soil compaction.
Help is here — plant radishes. No-till farming has already warmed up to the idea and field testing has demonstrated that this cover crop pays for itself with tangible benefits. Unlike cereal rye and barley, you don't have to worry about the radish getting too tall and unmanageable in the spring — winter conditions will kill the radish.
Forage radish (Raphaus Sativus) is an exceptional fall/winter cover crop that can be used in many garden/planting locations. It is a member of the Brassica family, which makes it a cousin of mustard, cabbage, rapeseed and canola. Forage radish is also known by the name daikon and is a favorite vegetable in many Asian dishes. Daikon in Japanese means "large root."
The key to success and full benefit of this vegetable is to get it planted in early September. When planted early, daikon radish exhibits a number of unique and useful characteristics that differ from other winter crops. The adagio and colonel radishes have similar traits but are stubborn, develop branchy taproots and are more winter-hardy. The length of the daikon variety is the super benefit.
Forage radish traits:
Rapid germination and growth.
Large and deep taproots (10-20 inches.)
Quick winter kill.
Decompose quickly.
High nutrient value (N, P, S, Ca, B).
Contain glucosinolates.
The benefits of the "tillage radish" or "radish ripper" are boundless. The most obvious benefit is the reduction of soil compaction. The thick-bodied radish grows 10-20 inches long. After the cover crop dies and the root decomposes, there is space for the following crop to grow. "No-tilling" might have another name: "bio-drilling."
Multiple benefits to gardeners:
Alleviate soil compaction — spading and deep tillage reduced.
Stifles weed growth — save herbicides.
Enhances seedbed — earlier spring planting.
Increases organic matter.
Releases nitrogen early — saves on fertilization.
Reduces nitrate leaching — saves water trouble.
Erosion control — soil saver.
Reduces water runoff — saves rainwater.
Forage radish is a different cover crop than most gardeners are accustomed to using. But it can provide multiple benefits when suitably innovated into your gardening area.
For more information, see fact sheets from Ohio State, Iowa State and Cornell University or go to: http://go.osu.edu/radish.