Youngstown Riders team to bicycle 150-mile round trip for MS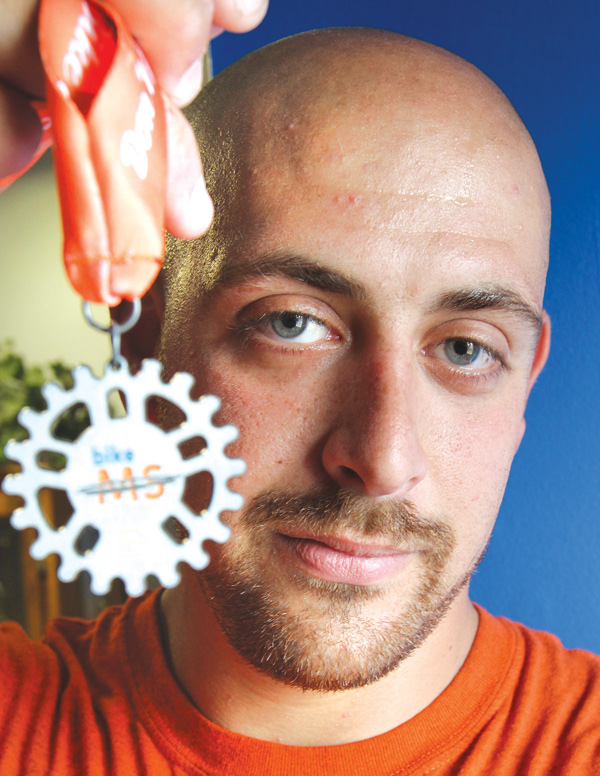 ---

Photo
Shawn Tiberio of Boardman has his game face on as he looks forward to participating Aug. 2-3 in the 2014 MS Pedal to the Point Ride to raise money and awareness for multiple sclerosis. He is holding the medal he received for participating in the 2013 ride.
BOARDMAN
Shawn Tiberio of Boardman, who had three deployments in Iraq during his 10 years as a Marine Corps combat engineer clearing roadside bombs, now fights another battle by riding in the MS Pedal to the Point bicycle ride to raise money and awareness for multiple sclerosis.
Multiple sclerosis is a chronic, unpredictable disease of the central nervous system.
Tiberio, 31, is captain of a four-person team, Youngstown Riders, whose members are preparing to make the Pedal to the Point Ride on Aug. 2 from Brunswick High School to Sandusky High School and back again Aug. 3, a 150-mile round trip.
But three of the Youngstown Riders plan to ride 100 miles Aug. 2 (75 miles plus the bonus 25-mile century route) and then 75 miles back Aug. 3.
Tiberio, a general contractor and co-owner of House to Home Construction, a real-estate investment firm, said he and two other team members — Glen Cimaglia and Russ Cannon, both of Boardman — have been riding 30 to 50 miles a day in Mill Creek Park training for the MS ride.
The fourth team member, Diana (Jones) Nogay, a professor of technical communications at the University of North Texas, is home for the summer, living in Brookfield Township where she grew up.
A 1991 graduate of Kennedy Christian High School in Hermitage, Pa., Nogay, 41, has MS.
"That is my inspiration for riding, and I also enjoy cycling," she said.
Diagnosed in 2004, she is in the relapsing-remitting stage of the disease. She is looking forward to her second Pedal to the Point Ride.
Nogay, daughter of Rheuben and Merrel Jones of Liberty, said she rode by herself in 2013 and stopped after 30 miles. She said she wanted to ride again this year, and when she saw there was a team from Youngstown, she joined the group.
She also has been training in Mill Creek Park, trying to ride at least 20 miles per session.
Tiberio, who with his girlfriend, Erin Naome, co-owner of Home to Home Properties, got started in MS rides while stationed with the Marines in North Carolina.
"I didn't even know what MS was, but someone told me about, it and it seemed like a good way to stay in shape while supporting a good cause. After the first ride, I was hooked," he said.
Tiberio, who rode in Bike MS events in North Carolina for five years, is participating in his second MS Pedal to the Point Ride.
He said Youngstown Riders members know numerous people who are living with the disease, and they are dedicating this year's ride to them.
As of Wednesday, there were more than 2,600 riders and 233 teams registered for the 2014 Pedal to the Point Ride, said Guyla Wehman, spokeswoman for the National MS Society, Ohio Buckeye Chapter, in Independence.
The goal is to raise $1.5 million to help people living with the disease by providing programs and services and funding MS research to help find the cause and a cure, Wehman said.
The Bike MS Pedal to the Point Ride has route options of 30, 75, 100 and 150 miles, so riders of any age (12 and older), experience and ability level can register to ride. The route is supported with rest stops every 8 to 12 miles, Wehman said.
Registration is $75, and riders are responsible for meeting a $300 fundraising minimum. First-time riders are encouraged to sign up and receive free registration with the coupon code NEWRIDER2014.
To make donations to Bike MS, visit www.MSohiobike.org or call 1-800 FIGHT MS (344-4867) or 216-503-4183.
Supporters include national sponsors Primal Wear, a designer and manufacturer of cycling apparel, and Genzyme, a Sanofi company that, according to its website, is committed to discovering and delivering transformative therapies for patients with rare and special unmet medical needs.