Boardman township continues effort to get rid of illegal signs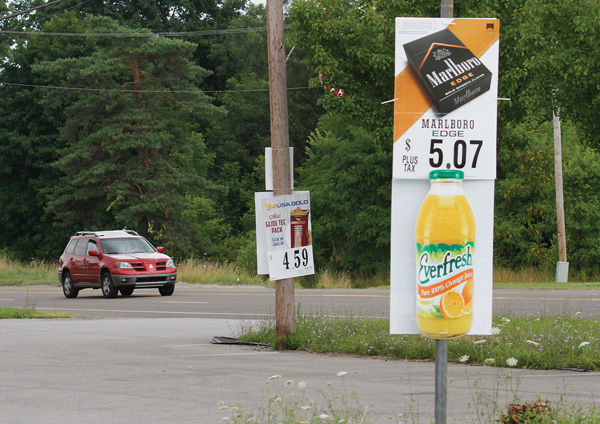 ---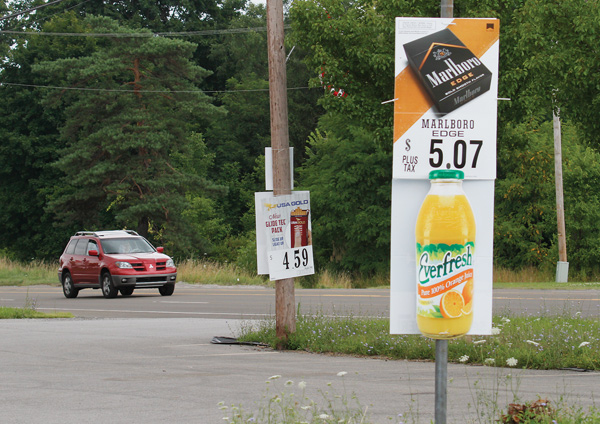 Photo
Advertising signs are illegally posted at this convenience store at Market Street and Roche Way in Boardman and on many other roads in the township. Utility poles are government property and, therefore, business owners are not permitted to post signs on them.
BOARDMAN
The township zoning department continues its efforts to stem the tide of illegal signs often posted by businesses near busy rights of way, said Zoning Inspector Sarah Gartland.
"Enforcing the sign ordinance is something you're never done with; it's something you have to continually work on with the community," Gartland said.
Kim Kotheimer, a former zoning department field inspector, said the township could be doing a better job of enforcing the sign ordinance, however.
Kotheimer, also a former township police officer who went on to work for the zoning department, said police worked hard to crack down on illegal signage.
"When I go into Boardman and see all this stuff popping up that we tried hard to address, it's a little bit disappointing," Kotheimer said. "They did say in [a May 2014 Vindicator article] that they are going to try to address this, but it's kind of perplexing that nothing has been done. ... We pretty much had it under control. And then for whatever reason ... they got lax with it for a good year.
"I would just like to see it better enforced, for the health of the community."
Gartland said, however, the department is doing all it can to enforce the ordinance that forbids businesses from posting temporary signs near rights of way, or from parking painted vehicles near the street as an advertisement.
The ordinance also prohibits individuals from posting temporary advertisements on utility poles, such as fliers for garage sales. Businesses can attach signs to their building, and individuals can advertise on their own property.
"Those are probably the two biggest categories, the temporary signs near the rights of way and the vehicles painted as signs," Gartland said.
Gartland said the township responds to all complaints they receive and also documents violations and contacts business owners when a department official notices a violation. She said there always are more violations during the summer.
Gartland said the protocol is to find a complaint or notice a violation, investigate it, then contact the property owner and give him or her a set amount of time to comply.
If the property owner fails to comply after a certain point, the zoning department turns the issue over to the prosecutor's office.
"If anyone isn't sure that a sign is legal or proper, they should definitely contact us. We like to give them guidance and guidelines ahead of time, so they don't spend money on a sign they can't put up," Gartland added.