Arby's comes home to mark 50th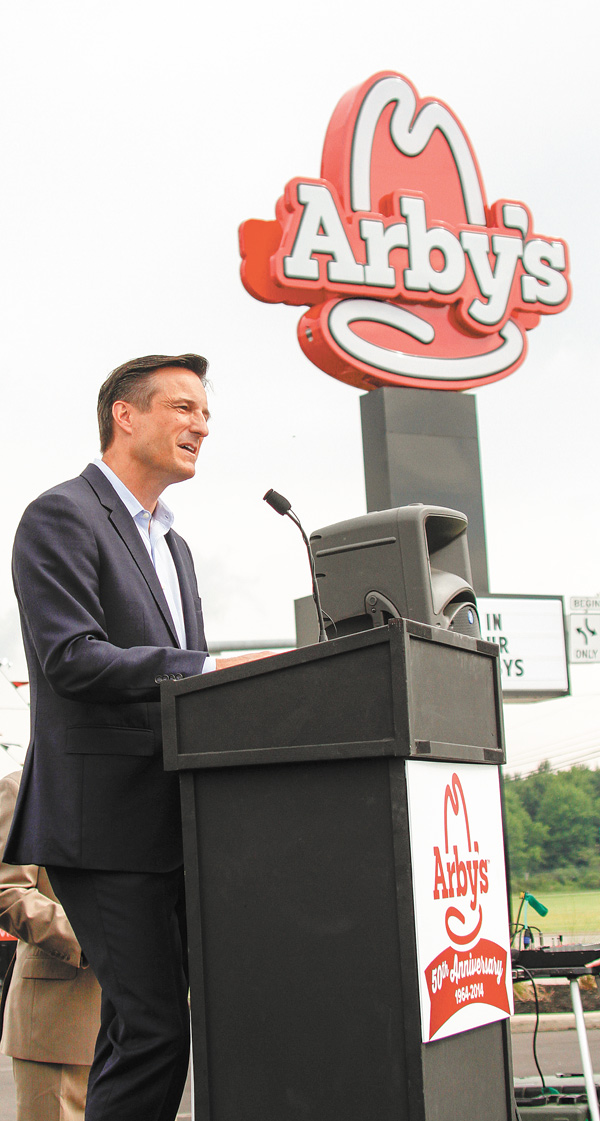 ---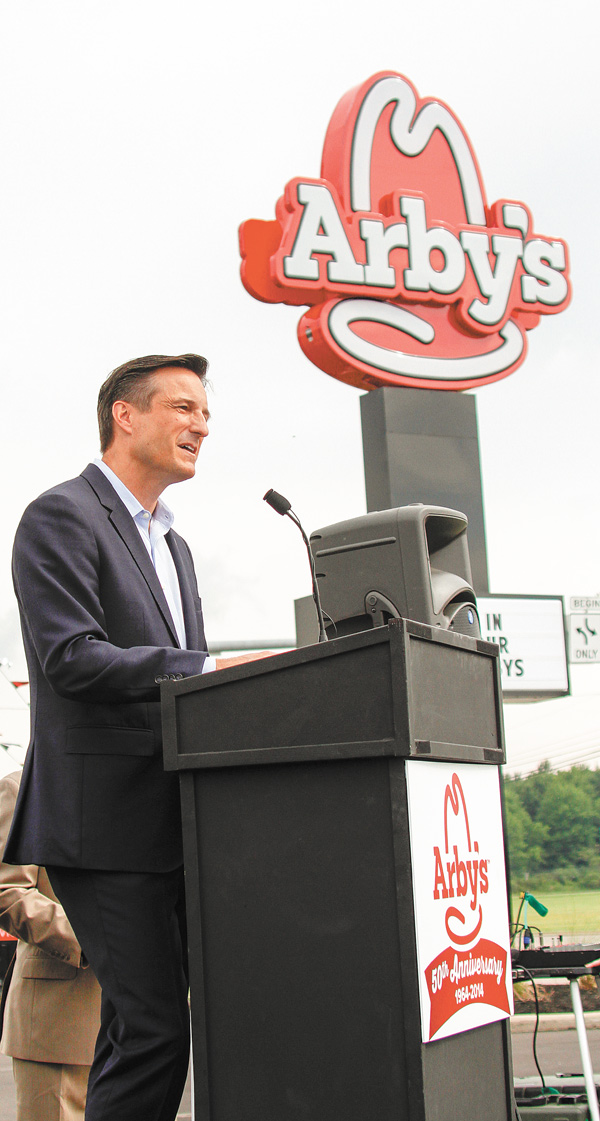 Photo
Paul Brown, chief executive officer of Arby's, speaks at the fast-food chain's 50th anniversary celebration in Champion. He spoke Wednesday about the Mahoning Valley's impact on the global brand that started in Boardman on July 23, 1964.
By KALEA HALL
khall@vindy.com
CHAMPION
Two men had a vision to bring roast beef sandwiches to the Mahoning Valley 50 years ago. That vision turned into the global fast food chain we know as Arby's.
On Wednesday, the vision, the reality and the future of the company were celebrated to mark Arby's half-century of providing roast beef sandwiches, shakes and smiles to customers.
"If [Valley residents] hadn't been so supportive of the brand then, we wouldn't be here today, so we owe a lot to the Mahoning Valley," said Paul Brown, chief executive officer of Arby's.
The celebration took place at the recently remodeled Arby's at 4321 Mahoning Ave. NW in Champion.
But Arby's first location fon U.S. Route 224 in Boardman on July 23, 1964, by brothers Leroy and Forrest Raffel of New Castle, Pa.

The two first decided to call the restaurant "Big Tex" but realized another restaurant in Akron had that name so they went with Arby's to stand for Raffel brothers or R.B. By 1967, there were 150 Arby's locations. The chain has since grown to nearly 3,400 restaurants worldwide. Now the company is focused on growing and has a new campaign to help it do so.
"Our dream is to have significantly more than we have now," Brown said.
An important piece to making that dream happen is having the team members necessary for growth. A total of 22 Arby's restaurants operate in the Mahoning Valley, with more than 500 employees.
Six of the team members were honored at the event for their years of service. They included Theresa Mullins for 28 years of service; Cindy Hergenroder, 34 years; Susanne Dutton, 42 years; Chris Heston, 34 years; Terri Jones, 33 years, and Vicki Vitullo, 30 years.
Dutton began her tenure with the company as a part-time employee while attending school. She never thought she'd be with the company 42 years.
"It's just been perfect for me," Dutton said. "They are a really good company to work for."
Also at the event, The
Arby's Foundation presented a $15,000 check to Second Harvest Food Bank of the Mahoning Valley.
"With this generous gift we will be able to provide 90,000 meals across the Valley," said Steve Horger, president of Second Harvest's board of directors.
Three fans of Arby's — Youngstown Mayor John A. McNally, Warren Mayor Doug Franklin and Trumbull County Commissioner Frank Fuda — expressed their thanks and saluted the company on its anniversary.
"It says something about the Mahoning Valley," Brown said of the public support. "Maybe one reason a global brand started here is because of the [public] support of the business community."
Arby's announced a nationwide brand-revitalization initiative in June. The revitalization includes a new building image, team member retraining program and franchisee financing solutions. Arby's plans to remodel at least 30 company-owned restaurants to the new image this year in key markets, including Youngstown; Huntsville, Ala.; Indianapolis and Salt Lake City. The company plans to significantly expand the number of remodels in 2015.
Five Valley Arby's are to be remodeled by the end of this year.