Schwebel Bakery finds listeria, withdraws some products
---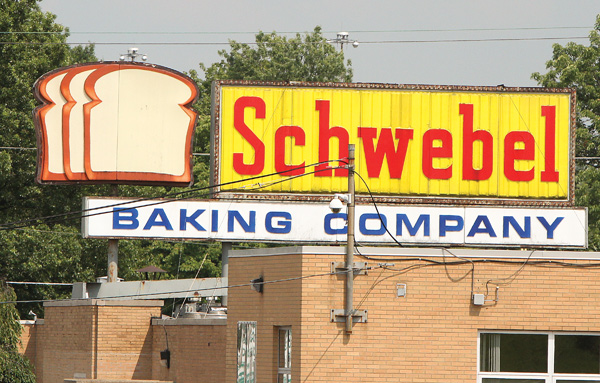 Photo
The Schwebel Baking Co. on Midlothian Boulevard on Tuesday voluntarily halted production and withdrew some products from the marketplace.
By KALEA HALL
khall@vindy.com
YOUNGSTOWN
An investigation continues to determine the extent of a bacteria that had Schwebel Baking Co. halt production and voluntarily withdraw certain products from the marketplace in Ohio, Pennsylvania, Indiana, New York, Michigan, West Virginia and Kentucky.
The bacteria – a strain of listeria – was found during a routine environmental assessment of the Youngstown bakery.
Listeria is a naturally occurring bacteria that can be found in any place where there is an accumulation of moisture. Some forms can cause infections in young children, the elderly and others with weakened immune systems. Other forms are benign.
It was discovered after a positive test for the bacteria came back, and the Food and Drug Administration was informed Tuesday, said Ashley McDonald, public relations officer for the Ohio Department of Agriculture.
Consumers can identify the products affected by the code located near the bottom of the best-buy date.
"If the code begins with the letter 'A,' the product is a part of the voluntary withdrawal," a company release said. "Anyone who has products in their possession that are part of the voluntary withdrawal should not consume them and should discard them or return them to where they were purchased."
McDonald said the swabs that tested positive for the bacteria were not in "areas where food was."
"So far, we have no indication it is in the product," McDonald said. "[The company] has been very proactive."
"Although there is no evidence at this point that any of our consumers or products have been impacted, we are taking this action as a precautionary measure to assure that our products are safe," said Paul Schwebel, company president.
The FDA, the primary organization working with the bakery, would not comment further, but did say "it's an ongoing investigation."
In addition to the voluntary withdrawal of products, the company ­— which has been in existence since 1906 — also placed all products prepared for shipment on hold.
The company operates four bakeries in Ohio, and Youngstown is the only bakery impacted by this event.
On Tuesday, production was halted at the Midlothian Boulevard bakery, said Vince Bevacqua, company spokesman.
"We don't know when [production] will resume," Bevacqua said Tuesday evening.
He said there have been no layoffs in terms of the workforce while the company works with the FDA, saying the company "found [employees] other work to do."
There have been listeria recalls this year in a number of products including fruit, lettuce, cheese, ham, peanut butter, chicken, salsa, hummus, ice cream and seafood, according to Listeria Blog, a website that tracks listeria recalls.
A recent recall due to listeria that gained national attention was issued by Wawona Packing Co. of Cutler, Calif. The company voluntarily recalled certain lots of peaches, nectarines and plums packed between June 1 and July 12.
Some of the companies affected by this national recall included Wegmans Food Markets Inc., Trader Joe's and Costco.
Listeria Blog lists a total of 24 listeria-related recalls this year, and only one related to bread.
The bread recall occurred involving Federated Co-operatives Ltd., a Canadian company, on March 21 and included the company's garlic bread and garlic/cheese bread, along with Market Town Co-op Pizza Bread products.
Testing for listeria is common in bread, biscuits and similar products.
A study published in the journal Food Control stated that bread-feeding machines, slicers, conveyor belts and water hosts are areas of a plant at risk for listeria contamination.
Although healthy individuals may suffer only short-term symptoms such as high fever, severe headache, stiffness, nausea, abdominal pain and diarrhea, listeria infection can cause miscarriages and stillbirths among pregnant women, according to the FDA.
Schwebel is directing consumers to call them directly at 1-800-860-2867 if they have been affected by the products or to visit the company's website for more information at schwebels.com.
Contributor: Burton Speakman, staff writer.