Published: Wed, July 23, 2014 @ 12:00 a.m.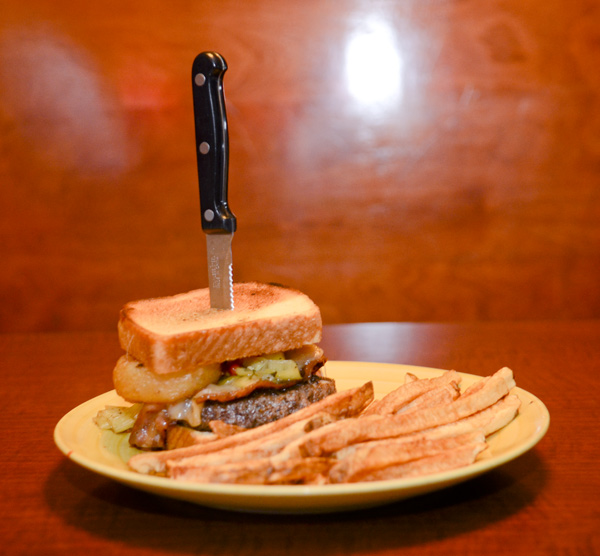 Photo
The Inferno Burger from the Downtown Coffee Cafe.
If You Go...
What: Downtown Coffee Cafe
Phone: 330-337-0899
Where: 29 N Main St., Hubbard, Ohio 44425
Phone: 330-534-1199
Hours: Open 24 hours
Menu: 7 burgers on the regular menu, and various daily specials throughout the week ($8.99 - $9.49)
Website:Downtown Coffee Cafe
By Anthony M. Fuda
mvbrb@hotmail.com
Coffee? Tea? or... a burger (and a beer)?
Easy choice for us -- a BURGER! And an excellent burger, too.
Co-owner Jim Carsone Jr., said he bought the Downtown Coffee Cafe 10 years ago, added an outside patio bar three years ago, and has stayed constantly busy ever since.
You can sit on the cafe side, relax and enjoy a nice meal; or take a walk to the outside bar/patio, where you can play corn hole (every Wednesday and Thursday), watch a band or just enjoy the bar atmosphere with a nice juicy burger.
We opted for the cafe side, so we could concentrate on the burgers and have a relatively quiet burger evening -- this time.
The Vindicator proclaimed we were coming in the Wednesday blurb, and our waitress, Melanie Riccelli, was ready for our mini burger fest.
Along with the regular menu, we were offered some of their most popular burger specials.
The regular menu has: Plain Burger (lettuce, tomato, onions); Cheese Burger (American cheese, lettuce, tomato, onions); Bacon-Cheddar Burger (bacon, cheddar cheese); Bruschetta Burger (topped with homemade bruschetta, fresh mozzarella cheese, basil pesto, on a ciabatta bun); Spinach Artichoke Burger (homemade artichoke dip and mozzarella cheese, on a ciabatta bun); Mushroom & Swiss Burger (mushrooms, Swiss cheese); Italian Burger (homemade greens, roasted red peppers, provolone cheese, on a ciabatta bun).
The specialty burgers on the menu today were: Memphis Burger (BBQ hand pulled pork, coleslaw, cheddar cheese, onion straws, on a pretzel bun); Nacho Burger (nacho cheese, homemade pico de gallo, black olive, on a pretzel bun); and an Inferno Burger (ghost pepper cheese, bacon, onion rings, sriracha sauce, homemade hot peppers, on Texas Toast).
If you notice a homemade theme in the burger description, it's because everything is fresh, and that freshness is shown in each of the burgers -- in everything from the toppings to the fresh blended beef the Cafe uses.
The burgers are sided with thick-cut fries, but you can get anything from kettle chips, hot chips to cottage cheese or apple sauce. We all, as always, opted for the fries. We put a little vinegar on them and they disappeared as fast as our burgers did.
I chose the Spinach Artichoke Burger, because I really enjoy that kind of dip and wanted to see how well it worked on a burger. I thought the deliciously cooked medium beef and ciabatta bun acted as gateway for the spinach and artichoke flavors. It was as if the flavors fused together to make the perfect appetizer/meal in each tantalizing bite.
Eric, our resident heat seeker, saw the Inferno Burger and said, "Looking over our burger choices tonight, as usual my eyes scanned for some sign of heat. There at the bottom, almost taunting me was the Inferno Burger. The first topping on the list was Ghost Pepper cheese. I was intrigued as I've never had an actual ghost pepper. I asked first for a sample to see if it lives up to the namesake. It had a great flavor, then the fire hit. But I didn't let this deter me and I pressed on with the actual burger, and it did not disappoint. From the beef that was seasoned and cooked to perfection to the unconventional Texas Toast bun, this burger had it all. Coupling the cheese with Sriracha sauce and homemade hot peppers really enhanced the flavor. You will know the burger is hot as advertised, but this does not overpower the rest of the flavor at all. With the final toppings of onion rings and the ever popular bacon, this burger is a must try for anyone like me who wants to amp up the temperature."
Jim Murphy, who we like call Jimmy Knuckles said, "After looking over the special "Burger" menu, I decided on a medium Bruschetta Burger (I ordered the Pesto on the side). The burger came out and I immediately cut into the large patty to discover this burger cooked a PERFECT Medium, a nice amount of the Bruschetta and a nice, fresh melted Mozzarella on a soft and fresh Ciabatta. As I tore into the burger, I immediately got a blast of the fresh, sweet tomatoes, garlic and basil from the Bruschetta and Pesto! The burger was extremely fresh, juicy and had a great flavor of beef! This is what a burger patty is supposed to be! The combination of the Bruschetta, pesto and soft mozzarella complemented nicely with this burger and made an amazing amalgamation of fresh, sweet Italian ingredients and superb beef!"
Spatman went with the Italian Burger, saying, "This 8 oz. U S grade A burger patty was seasoned nicely and topped with Italian greens, roasted red peppers and mozzarella cheese placed on a ciabatta roll. I ordered mine well-done, and with the toppings, it created a burst of flavor with every bite. The lightly toasted bun held up very well to all the juices. A really great burger at a fine price, I gave it a 4.5 out of 5 on my wet-nap scale."
JT noted, "Every month, I keep thinking that our streak of finding a great burger is going to come to an end. But here we are again, another awesome Burger! I loved the flavor of the pulled pork on the Memphis Burger. And I also love the job Jimmy Carsone Jr. did on the renovation of this historic building. The bar addition is very unique. Great atmosphere!"
If you are on Main Street in Hubbard at anytime time of the day or night, look for the Downtown Coffee Cafe. Stop in and peruse their burger menu and order any one of the delectable options. If you don't see a specialty burger on the menu -- just ask for it -- because all the ingredients will be in-house and the cooks will be more than happy to create your burger.
If Jim Carsone Sr. is there, maybe he will stop by and talk to you for a bit. He has some great stories and knows where to get the freshest and best tasting menu items -- just don't ask him where, because, well, you know...
Carsone Jr says to look for a 10-year anniversary party sometime in September, and if these burgers are on the menu, the parties will continue well in to the future.
4 1/2 stars
Keep reading the Valley food section each Wednesday for the best food the Valley has to offer.
If you know of a burger that should be on our hit list, send the info to mvbrb@hotmail.com, or on our Facebook page BurgerGuyz