Creekside Fitness goes 4-0 in Colt tournament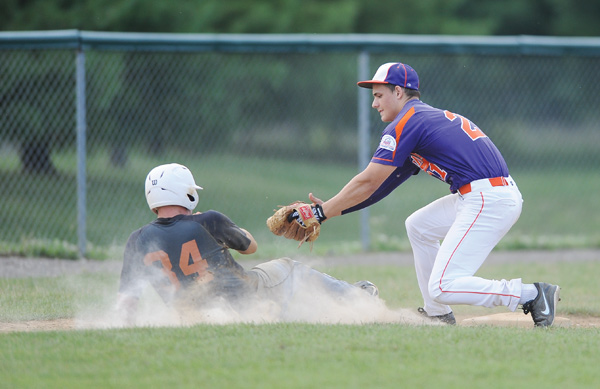 ---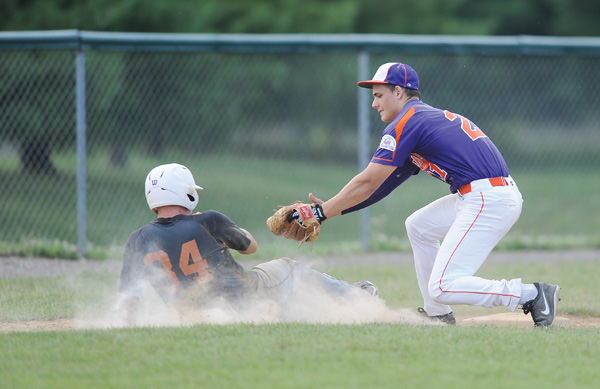 Photo
Creekside infielder Alex Harrison prepares to tag the Longhorns' Owen Dobbins during a pickoff in Sunday's Colt championship game at Cene Park in Struthers.
By Greg Gulas
STRUTHERS
The only Creekside Fitness starting pitcher to not go the distance in this year's PONY Baseball Colt Super Regional was the one who helped the team punch its ticket to this week's Colt Zone championship series.
Sunday at Cene Park, Dylan McAvoy pitched six strong innings, scattering seven hits as Creekside defeated the Cleveland Longhorns, 11-3, to capture the Colt Super Regional at Bob Cene Park. Alex Harrison relieved McAvoy in the seventh inning.
Creekside advances to Thursday's Colt Zone Championship in Greensboro, N.C. Creekside's first game will be Thursday at 6 p.m. at Stoner-White Stadium.
"To know that we are going to represent Ohio in the Colt Zone Championship is an exciting feeling so we want to do our very best this week," McAvoy said.
The Longhorns jumped out to the early 1-0 lead.
"We weren't worried because we were playing good defense and getting good wood on the ball," McAvoy said. "I wanted to pitch all batters down and away and for the most part was able to do that. Locating my pitches was also big."
Entering the championship game, Creekside had outscored opponents 28-9 in three easy wins.
The Longhorns' other defeat in the double-elimination tournament was to Creekside (9-2). The Longhorns had a 4-1 record despite being out-scored 24-23.
In the rematch, Longhorns starting pitcher Vinny Oppedisano was perfect through the first three innings, setting down the first nine batters.
Creekside then sent 32 batters to the plate over the next four frames to finish the tournament at 4-0.
"We had four great pitching performances in the tournament and that was the key," Creekside manager Bob Boughner said of the tournament. "Alex Harrison got us off to great start by going the [distance] in the first game against Mars.
"Jared Burkert picked right up where Alex left off in the second game versus Chambersburg," Boughner said. "Antonio Viviano then followed with a complete game against the Longhorns in our third game and Dylan [McAvoy] was spot on tonight,.
"We also had timely hitting and played excellent defense when we needed to so everything just came together for us at the right time."
The Longhorns took the lead in the third inning when Ben Pratt raced home on an throwing error by Creekside second baseman, Gino Beato.
The lead was short-lived, however, as a run-scoring double by Viviano and run-producing single by Pad O'Shaughnessy gave Creekside a 2-1 edge.
Creekside added three runs each in the fifth, sixth and seventh innings.
"Words cannot explain my joy right now," Viviano said. "It's my first year on the team and [my teammates] seem to pick everyone up when they need to be picked up and there's a new hero every day."
Viviano finished with two hits and two runs batted in. He scored two runs and reached base safely four times while Beato added two hits, scored three runs and also added two RBIs.
"Dylan pitched well, we hit well and everything just came together for us the entire tournament," Beato said.
Palomino
Dura-Edge, managed by Terry Dobson from the Class B League, is the lone unbeaten team in the Palomino Region tournament in Butler, Pa.
Dura-Edge will play for the region championship today at 3 p.m. against the North Allegheny-North Hills winner. The winner advances to East Zone Tournament play on Thursday, in Butler.