Corvette club stages show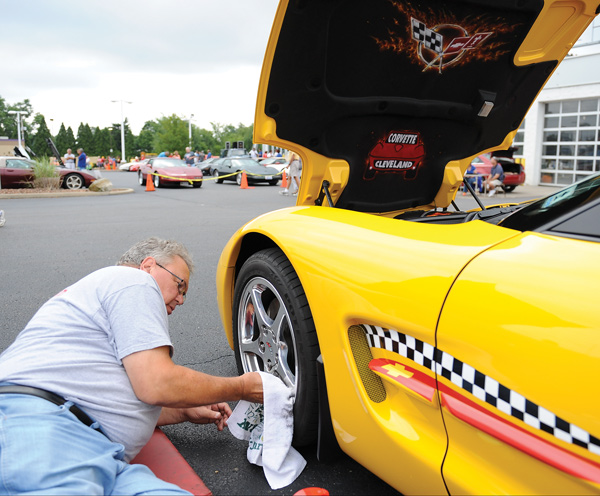 ---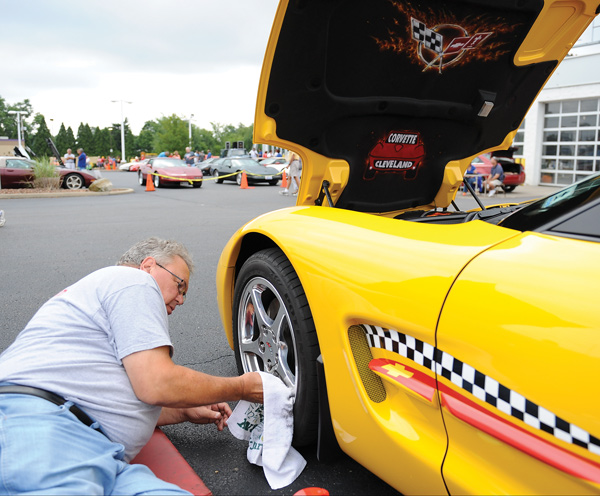 Photo
Warren Obert of Corvette Cleveland cleans the rims on his 2003 Corvette in the parking lot of the former Greenwood Hummer during the Corvette car show Sunday morning. This was the 20th year for the event sponsored by Greenwood Chevrolet and the Mahoning Valley Corvettes club.
By Sean Barron
AUSTINTOWN
Sam J. Sicilia's black 1978 Corvette Pace has nearly all of its original parts, but also comes with a carload of firsts.
"It was the first year for a glass-mirror top," the Salem man noted.
Other cutting-edge features include being the first model to have a vehicle-identification number and a glove compartment, the first to run on the Indianapolis 500 Motor Speedway and the only model of its time with a silver interior and a gas tank that held 24 gallons instead of 17, Sicilia proudly explained.
His Corvette was one of about 100 such sporty cars that were the attraction of Sunday's 20th annual car show at Greenwood Chevrolet, 4695 Mahoning Ave.
Greenwood Chevrolet and the Mahoning Valley Corvettes club
sponsored the 51/2-hour fundraiser. Proceeds will go to Burnside Recreational Club in Struthers, an organization that takes youngsters off the streets and offers them safe after-school programs, as well as Yellow Brick Place, a cancer-wellness center slated to open in January 2015, noted Dan Lyden of the Corvettes Club.
Vintage cars and motorcycles also were a big part of the show.
Sicilia noted that 6,502 such cars were manufactured in 1978, one for each Corvette dealer in the country. He added that his was No. 3,350 off the assembly line.
As if that weren't enough, a previous owner of Sicilia's vehicle was Jim Bunning, a former pitcher for the Detroit Tigers and Philadelphia Phillies who was inducted into the Baseball Hall of Fame in 1996. He also was a longtime Kentucky senator.
Sicilia also had at the show a 2003 Corvette Pace vehicle he bought in Boston, which has a six-speed manual transmission, a 12-disc compact-disc player and a paltry 10,100 miles.
"I keep everything original," he said, adding that the car is anniversary red, similar to burgundy, to reflect the 50th anniversary of the first Corvettes made in 1953.
Among those who brought Corvettes that appeared to have just rolled off the line were Tim and Bonnie Adams of Grafton, Ohio, who were next to their 2014 cyber-metallic-gray model.
"When my wife graduated from high school, I got her a model Corvette and I said, 'I'll get you a real one,' and 45 years later, I did it," Tim said with laughter as he took a break from shining their vehicle.
"I wanted one since I was 18, and for my 65th birthday, I got it," Bonnie added.
Their car, which gets between 38 and 40 mpg on the highway, has features that include a nine-speaker surround-sound system, several USB ports and a 455-horsepower engine.
The couple takes their Corvette on trips with their Cleveland-area club. The next outing will be next month to the Corvette Museum in Bowling Green, Ky., Bonnie said.
Other attractions were a deep-orange 2007 model with a 427-horsepower engine, a gray 2007 C6 type, and a bright-yellow 2005 C6.
Also on hand were vintage cars, such as a 1966 El Camino with a 325-horsepower turbo-jet engine and a restored 1968 blue Camaro. Several people also were drawn to James Lacivita's olive-green 1941 Ford Super Deluxe.
"It looks new underneath," said Lacivita, who also owns Deer Creek Golf Course in Hubbard.
Lacivita noted that he bought the car online about two years ago after it had suffered salt-water damage from Hurricane Sandy. Since then, he rebuilt the engine and painted much of the exnterior.
The car show also featured a basket raffle, trophies, prizes and oldies music, courtesy of disc jockey Big Rick.