Concert will benefit Pelotonia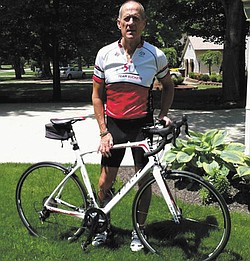 Photo
SPECIAL TO THE VINDICATOR Tom Wagner, a 1975 Salem High School graduate, will cycle in Pelotonia, an annual cancer fundraising event in Columbus.
Staff report
SALEM
To support Pelotonia, a 100-mile bicycle ride to support cancer research, Vicki Schaeffer and Andy Schuller will perform a recital.
The recital is planned for 3 p.m. July 27 at Salem First Presbyterian Church, 436 E. 2nd St.
Tom Wagner is supporting Pelotonia by cycling in the event on Aug. 9 in Columbus. All donations will go to the James Cancer Research Hospital in Columbus. The Pelotonia, in its five years, has raised more than $57 million. All the money goes to cancer research. Overhead and administrative expenses are paid by corporations, such as Huntington Bank.
The three are graduates of Salem High School, so Wagner will ride in memory of any staff members who have lost their battle with cancer.
Those who want to make donations or find out more about the history of Pelotonia can do so at www.pelotonia.org. Click on Search Profiles, Tom Wagner, ID # TW0030. Donations can be made by check or cash. You also can contact Tom at 330-692-1469 to make donations.
Schaeffer holds a doctor of music degree and has been a church organist since age 15. She serves as principal organist and associate director of music ministries at McFarlin Memorial Methodist Church in Norman, Okla.
She is director of recruitment for the Honors College at the University of Oklahoma.
Schuller began playing trumpet at age 6 under the direction of his father, Bill. In 1981 he graduated from Youngstown State University with a bachelor's degree in music education. Then until 1986 he taught instrumental music in Salem Public Schools.
Since 1986, Schuller has been a trumpet/cornet player with "The President's Own" United States Marine Band. He has performed at the White House frequently and has been a featured soloist many times.
Schuller received a master's degree in conducting from George Mason University in 1993. He resides in Alexandria, Va., with his wife, Heidi.