Mr., Mrs. Rentas take trip, renew vows for 50th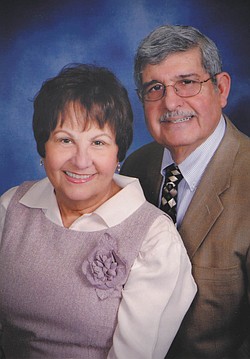 Photo
CAMPBELL
Mr. and Mrs. John A. Rentas of Campbell have been celebrating their 50th wedding anniversary for a month.
In June they took a two-week trip to Puerto Rico, where they stayed with their two daughters: Attys. Rachel Black and her husband, Chris, and their five children of Dublin, Ohio; and Melissa Rentas of Campbell.
On June 15 they celebrated at a wedding anniversary Mass at St. Columba Cathedral, where they renewed their vows with Bishop George V. Murry as the celebrant.
They also will renew their vows July 27 at Christ the Good Shepherd Parish, where Mr. Rentas is a permanent deacon.
The couple both do volunteer work for the food pantry at former St. Lucy-St. Rosa de Lima campus. Mrs. Rentas also serves in the Eucharistic ministry.
The former Nida Ortiz and Mr. Rentas were married July 25, 1964, at St. Rosa de Lima Church in Youngstown, where they were founding life members.
Mrs. Rentas retired in 2004 from Youngstown City Schools, where she taught reading, English and Spanish.
Mr. Rentas served in the U.S. Marine Corps from 1963 to 1967, a veteran of the Vietnam War. He was an insurance agent and retired as a firefighter with the City of Youngstown in 1994.
The Rentases are both graduates of Youngstown State University with advance studies in their areas.