Cicatiellos mark golden milestone with family party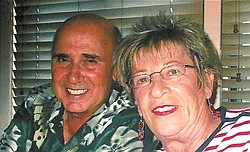 Photo
Mr. and Mrs. Thomas Cicatiello
PORT ST. LUCIE, FLA.
Thomas F. and Patricia A. Cicatiello of Port St. Lucie, Fla., and formerly of Canfield and Austintown, celebrated the 50th anniversary of their wedding at St. George Croatian Center on July 19. Their children, Judi Cicatiello of Columbus; Michael (Deanna) Cicatiello of Rogers, Ark.; and Dave Cicatiello of Staten Island, N.Y., hosted the festivities. The couple also have two grandchildren.
Mrs. Cicatiello, the former Patricia Godec, retired in 1998 as a registered nurse at Youngstown Osteopathic Hospital. She is a member of Girard's Geese Club and a local 500 Club.
Mr. Cicatiello retired in 2007 from Ceco Door Products of Milan, Tenn., where he was regional sales manager. He belongs to St. Elizabeth Ann Seton Church, the Elks and the American Legion. He served in the U.S. Army from 1959 to 1962 as a specialist E4 Class.
The Cicatiellos were married June 27, 1964, at St. Rose Church in Girard.