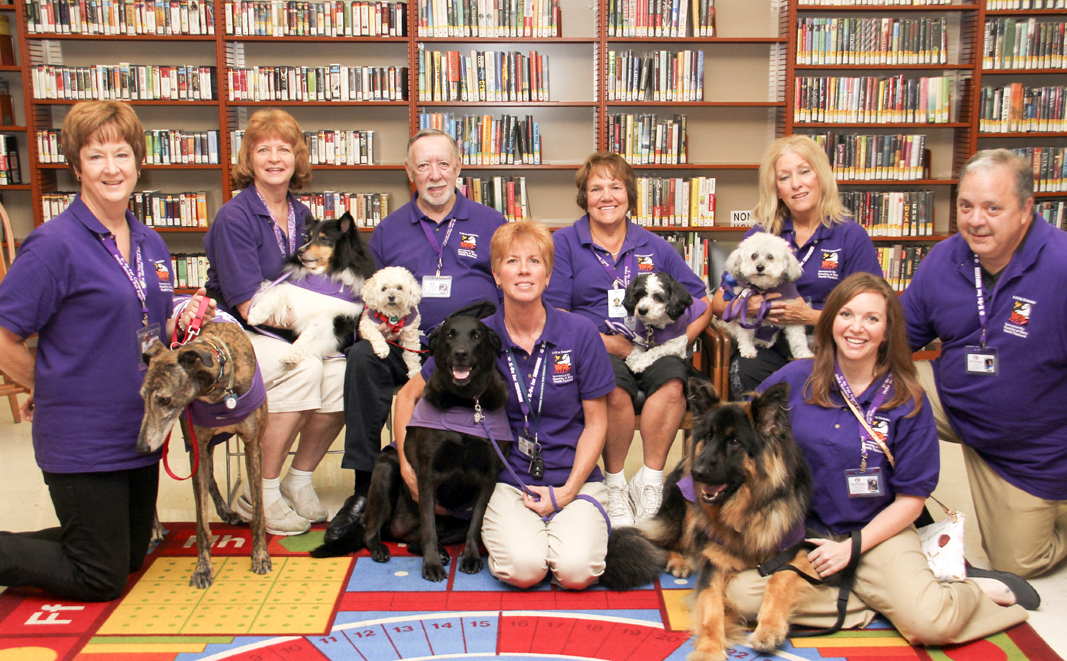 ---
By Sean Barron
YOUNGSTOWN
Last year, a Trumbull County elementary-school girl spoke in her class for the first time.
The school knew she was able to talk, but for various reasons, she had refused – until a small, white poodle came along and became part of her reading circle.
"No one had heard her speak," recalled Art Rey-nolds, who handles Tasha, a 10-year-old poodle mix that somehow encouraged the girl to open up.
The Hubbard man and his dog also were among the eight volunteers and seven animals on hand for Saturday's therapy-dog demonstration at the Brownlee Woods branch of the Public Library of Youngstown and Mahoning County, 4010 Sheridan Road, on the South Side.
The participants are part of K-9's for Compassion, a Hubbard-based group that evaluates, screens and tests animal-and-handler teams before they visit area nursing homes, libraries, hospitals, schools and other settings. The program also teaches the value of volunteering and giving back to the community, its website says.
K-9's is affiliated with and follows the guidelines of Pet Partners, a Bellevue, Wash.-based national nonprofit organization that introduces therapy, companion and service animals to qualified recipients so they can live healthier, more-fulfilling lives.
Prospective volunteers attend an all-day session to learn to handle the animals, which includes understanding their body language. The pets also are placed in simulated situations to prepare them for visits to health-care facilities and elsewhere, noted Nancy Leone of Canfield, who brought her 10-year-old poodle, Meja, to Saturday's gathering.
Once in the program, the animals are retested every two years, she said.
Reynolds' dog, Tasha, maintains a busy schedule that includes twice-monthly visits to a Warren school for children with learning challenges, as well as monthly treks to the Hubbard Public Library, where children read to her, he said.
Leone recalled having brought Meja to see a friend's father, who was unresponsive after having been hospitalized for a brain tumor. The dog,
however, had a big impact on the man, she said.
"I took his hand and placed it on Meja, and he opened his eyes for the first time in days," Leone continued. "It was amazing."
Meja, who performed a variety of tricks such as roll-overs during Saturday's event, also was on hand for Leone's husband, Philip, who was diagnosed with leukemia about three years ago and was being treated in Chicago, she added.
Another K-9's volunteer spoke about how her therapy dog visited her mother in a nursing home, as well as the positive impact the animal had on other residents.
Also in the program is Sparky, an easy-going 6-year-old retired greyhound racing dog.
"They make wonderful pets when they come off the track," said Sparky's handler, Coleen Dunchak of Canfield.
When he's not making his presence felt in local schools, nursing homes and libraries, Sparky likely is engaged in his other cherished pursuits.
"His favorite activity is eating, followed by sleeping," Dunchak said to laughter.