Reality show members enjoying the ride
Fat And Furious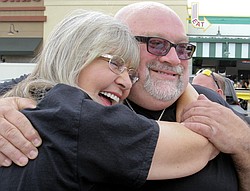 Gallery
Cast members of Youngstown based reality TV show Fat An Furious visited a local car show.
By Joe Gorman
Boardman
Tommy Christmas has been working on muscle cars since he was 16.
That said, the fact his quest to restore and build the cars is now on television every week is "icing on the cake," Christmas said, as he signed autographs for fans Friday at the Quaker Steak & Lube on U.S. Route 224.
Christmas said he is thrilled so far with how the show, "Fat N' Furious: Rolling Thunder," has been going. The show airs at 10 p.m. Mondays on the Discovery Channel.
"We're just living the dream," Christmas told the crowd. "We can't even believe this has happened to us."
Kelly Gill, marketing director for the restaurant, said Quaker Steak decided to invite the cast of the show to its weekly classic car cruise because of their enthusiasm for cars and the area.
"It's a perfect fit," Gill said.
Chuck Kountz of Youngs-town, another member of the show, said the show experience has made him want to get better at building cars.
"You just want to build bigger and better toys," Kountz said.
The show chronicles the efforts of Christmas and his helpers as they rebuild classic muscle cars and get them in good enough condition to drag race. Much of the show takes place from Christmas' garage at Christmas Automotive in Boardman.
Kountz and Christmas both said they have been involved with rebuilding and restoring cars since they were teens. Both men said they were influenced by their fathers.
"I was always in the garage. I always had a wrench in my hand," Kountz said.
Christmas said it was hard at first getting used to working with the cameras around all the time, but now he is able to function without hardly knowing they are there.
"It took me a long time to get used to it," Christmas said.
Fans said they liked the show's humor and tips for fixing cars.
"The guys are real funny. They're not dead serious all the time," said Larry Addicott of Boardman.
"It's funny, and it has a lot of insights and views on cars," said David Marovich, also of Boardman.
Marovich said he watches often and has seen every show more than once.
"I tape it so I can watch it over again," he said.
There are two more shows left in the season, airing the next two Mondays. Christmas said he has not heard yet if the show will be picked up for a second season.