Some Valley restaurants cater to demand for healthy options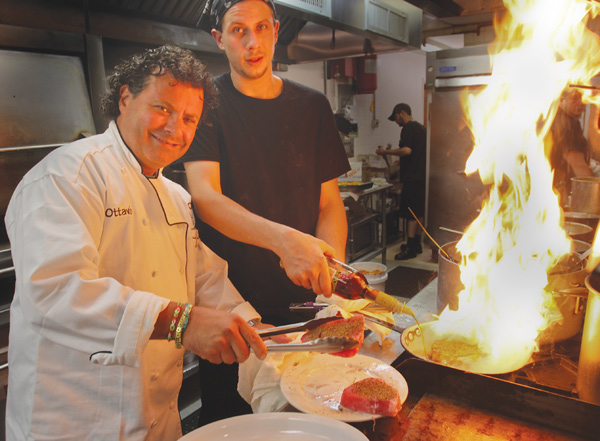 ---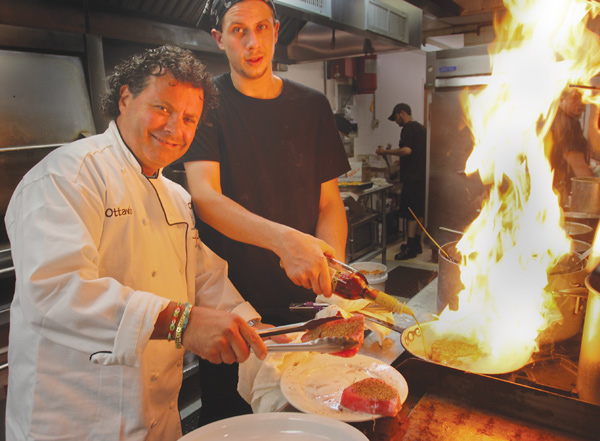 Photo
Ottavio Musumeci, owner and head chef at Station Square Ristorante in Liberty, at left, and cook Gerry Gianoutsos work in the kitchen at the restaurant. The eatery offers American and Italian cuisine with organic, grass-fed beef offered, among other items. The menu also has multiple gluten-free options.
By KALEA HALL | khall@vindy.com
LIBERTY
Although it costs him more to buy natural, antibiotic-free, hormone-free poultry and certified organic grass-fed beef, Ottavio Musumeci, owner
of Station Square Ristorante, wants his customers to have the best product.
He also wants to make sure he keeps the prices reasonable, even though he says he should charge more considering the cost to buy better is higher.
"This area is very conservative," Musumeci said. "It's hard to work with the best ingredients and not charge a lot."
Musumeci, a native of Torino, Italy, has owned the restaurant for 13 years. He also is the head chef and perfects the countless dishes on the menu. But he says the food here isn't quite like it was in Italy.
For example, the pesto sauce he makes just doesn't taste the same as it did when he was a chef in Italy. Through the years, however, he has learned where to get the best products for his restaurant, what products he wants to avoid and what he puts on the menu.
"I try to be different and do the right things," Musumeci said.
Musumeci buys his chicken from Coleman Chicken, which is based in North Carolina. Coleman promotes its offering of antibiotic-free, hormone-free and preservative-free chicken. He also deals with Northern Haserot of Cleveland for deli meats, which are promoted as "natural from day one."
He buys his beef from Manna Farms in Farmdale. On its website, Manna says it offers U.S. Department of Agriculture certified organic, grass-fed Piedmontese cattle. The farm also is a nongenetically modified producer.
Genetically modified foods have genetic material that has been changed in a way that is not natural. Genetically engineered crops have come under scrutiny by consumers who want to know more about the risks involved with them. In February, the USDA came out with a report on GMO crops.
The economic research report found that although U.S. consumers eat several products derived from GE crops, many are unaware the products such as sugar, cornmeal and oils are derived from those crops.
"Despite the rapid increase in the adoption of corn, soybean and cotton GE varieties by U.S. farmers, questions persist regarding their economic and environmental impacts, the evolution of weed resistance, and consumer acceptance," the report says.
Corn, soybeans and cotton make up the majority of GE crops. The study found that in industrialized nations, most consumers will "pay a premium for foods that don't contain GE ingredients," but the same cannot be said for developing nations.
"Consumers more and more demand more transparency about what is in their products," said Mary Chapman, director of product innovation for Technomic, a resource database that tracks the food industry. "Consumers are attracted to authenticity."
Jim and Ely Pugh, owners of the vegan restaurant Ely's in Boardman, also try to be as organic as possible with what they offer.
"It's not as difficult as people want to make it sound," Jim said.
Ely Pugh deals with five or six local farmers for organic or natural produce. In the winter, the owners will use Whole Foods or other markets' produce.
Some of the local providers are not specified organic because of the cost to become certified organic. The USDA announced Thursday that approximately $13 million in Farm Bill funding is available for organic certification cost-share assistance, making certification more accessible for small certified producers and handlers.
Outside of offering natural, organic or GMO-free products, restaurants such as Station Square and Ely's also have to keep up with offering gluten-free options.
Station Square offers gluten-free pasta as an alternative for regular pasta dishes and notes on its menu what dishes can be made without gluten.
Ely's offers "gluten-free" day on Wednesdays.
Since 2010, Technomic has seen a 1,900 percent increase in gluten-free items offered out of thousands of menus of restaurants.
"It's huge because consumers are asking for it," Chapman said. "Even if consumers don't have any intolerance to it, many believe it is better for them [to be gluten-free]. Doing the best to serve your customers is important, but being 100 percent gluten-free is very hard."
Likewise, it is difficult to say a restaurant is 100 percent GMO-free.
"We try to be seasonal and fresh," Musumeci said. "It brings in more business."