Scrappers fall to Tigers in 14th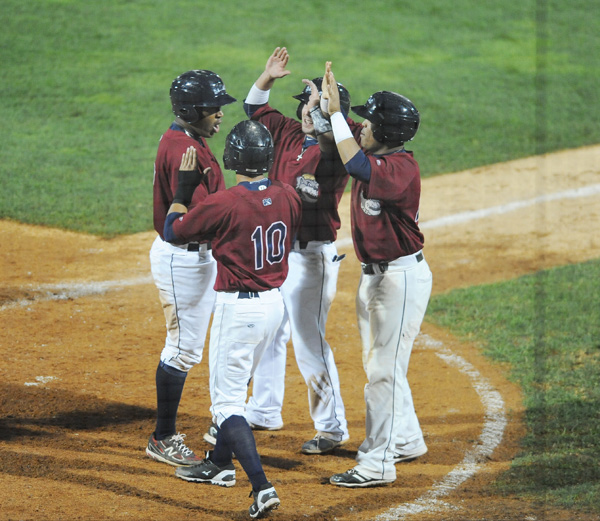 ---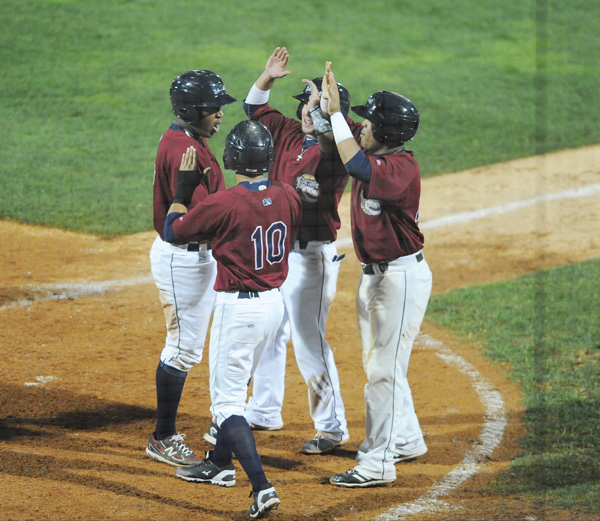 Photo
The Scrappers' Leo Castillo, left, is mobbed by teammates, including Yonathan Mendoza, Drake Roberts and Steven Patterson after hitting a game-tying grand slam in the eighth inning of Thursday's New York-Penn League game against the Connecticut Tigers at Eastwood Field in Niles. Mahoning Valley fell 10-9 in the 14th.
By Steve Ruman
NILES
The good news for the Mahoning Valley Scrappers on Thursday is that a late walk-up crowd resulted in the season's third-highest attendance. Eastwood Field welcomed 4,911 fans on Buck Night for the game between the Scrappers and Connecticut Tigers.
They got more than their money's worth in action on the field.
Perhaps energized by the enthusiastic throng, the Scrappers pounded out 17 hits and scored nine runs — including four on a Leo Castillo eighth-inning grand slam which at the time tied the game at 9-9.
The bad news?
Scrappers pitchers combined to issue a season-high 13 walks, resulting in a 10-9 14-inning loss.
The game was decided when Will Maddox reached on a one-out bunt single, then advanced to second on a throwing error. One pitch later, Maddox scored on a double by Rashad Brown.
The Scrappers, who squandered numerous scoring opportunities in extra innings, saw Steven Patterson reach on a single to lead off the bottom of the 14th. Patterson advanced to second on Taylor Murphy's two-out walk. However, D'Vone McClure struck out swinging to end the game.
The contest, which took 4 hours, 48 minutes to play, ended just before midnight.
The Scrappers built a 5-1 lead before the Tigers erupted for six runs in the seventh to take a 9-5 advantage.
Scrappers starter Cameron Hill worked four innings and did not allow a hit. However, he issued four walks and hit a batter while allowing one run.
Scrappers reliever Luis Gomez had a nightmarish outing, giving up six runs on six hits and two walks in just two-thirds of an inning.
The Scrappers appeared headed to certain defeat down by four and entering the bottom of the eighth inning. However, the home team loaded the bases on a Drake Roberts single sandwiched between a pair of walks. That was followed by Castillo's blast which was belted deep over the left-field wall.
The Scrappers put runners on base in five of the final six innings, but couldn't come up with a clutch hit.
Brown went 3-for-6 for the Tigers and collected four RBIs. Domingo Leybia contributed a 3-for-5 performance.
The 17 hits by the Scrappers was a season-high; however, they also stranded 15 baserunners.
The game included Ross Kivett's return to Northeast Ohio. Kivett is a Broadview Heights native and a 2010 graduate of Lakewood St. Edward High School. Following a stellar four-year career at Kansas State, Kivett was drafted by the Detroit Tigers in the 10th round of the June draft.
At Lakewood St. Ed's, Kivett hit .485 (47-for-97) with 10 doubles, two triples, 16 RBI and 16 steals as a senior in 2010, leading the Eagles to a state championship.
In a four-year career at Kansas State, he finished among K-State's top-10 in several career categories, including first in stolen bases (80), second in games played (225) and games started (215), tied for second in runs scored (181), third in hits (277), fifth in hit by pitch (31), tied for fifth in walks (108), and tied for seventh in triples (11)
This past spring, Kivett hit .333 with 13 doubles, four home runs, 33 RBI, 35 walks and 21 stolen bases.
Kivett was drafted by the Indians in 2013 but opted to remain in school.