Lexi Collins becomes Miss High School America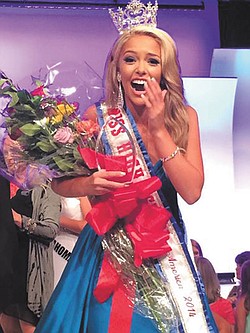 Photo
SPECIAL TO THE VINDICATOR Lexi Collins of West Middlesex reacts to being crowned Miss High School America.
Staff report
ORLANDO, FLA.
Lexi Collins, 16, of West Middlesex, Pa., won the prestigious title of Miss High School America on July 6 during the national Miss High School America pageant. It took place July 2 through 5 at the Swan and Dolphin Resort.
The pageant was broadcast live online while the 50 contestants competed in three preliminary phases July 5: evening gown, fun fashion and personal interview with the judges.
On July 6, Collins was on her way to winning the crown. After the top 15 contestants recompete in each phase, the judges determine the top five girls. Each of the top five girls then are asked an on-stage question and the results were revealed.
As the winner, Collins received a $10,000 college scholarship, an all-expense-paid trip to Europe with the People to People Ambassador's Program, a $3,000 gift certificate to Henri's Cloud Nine Prom and Pageant store, trips to Las Vegas, Washington, D.C., and Arkansas for photo shoots and appearances, and many other prizes.
Collins will have a chance to travel locally and nationally to promote the Miss High School America pageant and its platform, Crown C.A.R.E.S., an anti-bullying program to help schoolchildren.
The daughter of Bob and Linda Collins will be entering her junior year at West Middlesex High School. She is on the dance line, the golf team, and a member of the National Honor Society.