Italian pride evident in Girard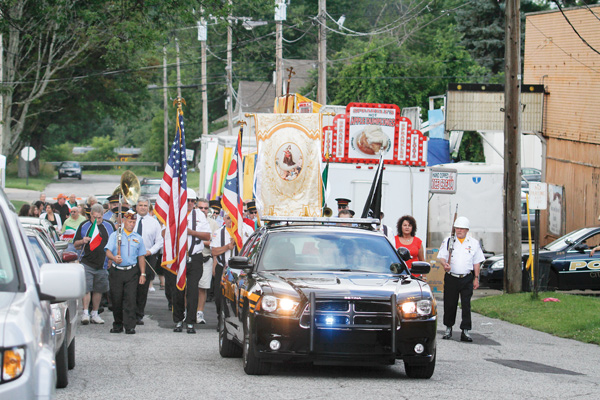 ---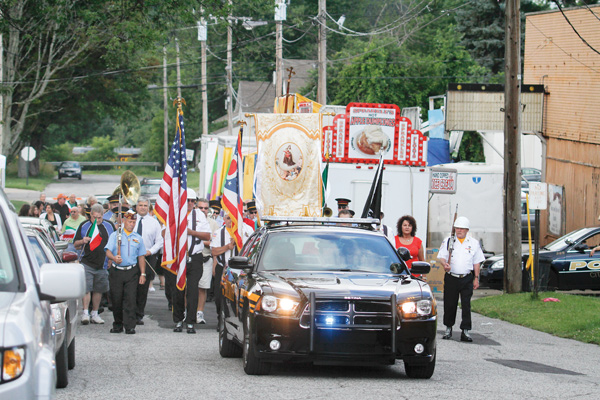 Photo
The Girard Mount Carmel Festival Parade steps off up West Wilson Street to North State Street and St. Rose Church. The parade, a tradition in which the St. Margaret's Blue Coats Band leads participants to the church for a Mass, was Wednesday morning. Wednesday was the last day of the festival.
By jeanne starmack
GIRARD
They gathered on West Wilson Street in front of the Italian Fraternal Home on Wednesday morning, as they had for so many years past.
About 30 to 40 people filed in behind members of the St. Margaret's Blue Coats Band, which would lead them up Wilson, across State Street and down to St. Rose Church. There, they would listen to the band play a few numbers, then go inside for Mass.
It was the last day of the Girard Mount Carmel Society Festival, which began Friday and was going out Wednesday night with the usual bang — renowned Zambelli fireworks that were expected to draw about 10,000 people to downtown.
But Wednesday morning was a quiet time — for reflecting on their heritage and for honoring their ancestors. After Mass, members of the IFH and the band were to go to three cemeteries to honor beloved dead there.
At the back of the parade, three generations were waving the Italian colors as it started up Wilson.
Tony DeGaten, who has been an IFH member for 60 years, was accompanied by his 28-year-old son, Ryan, and Ryan's son, Geoffrey, 7.
"I haven't missed one year," said Tony, about marching in the parade to honor his Italian heritage. "That's what it's all about."
Ryan, Tony said, "marched with me when he was [Geoffrey's] age or younger."
Alexandra Vince, who also walked in the parade with her toddler, Joseph, said she wants to get him involved in church activities. For her, it's continuing to be involved in her community.
"I grew up here," she said.
The Girard Mount Carmel Festival is put on every year by a committee that is headed by Ray Ragozzine and his brother, Myron Esposito.
"Such a wonderful event that has spanned generations of Italian immigrants and Italian Americans in Girard, and continued on by the Ragozzine family," said Girard Mayor Jim Melfi, who also attended the parade.
"It's a day to celebrate but also to reflect on who settled here," Melfi said about Wednesday's events. "Not only Italians, but all immigrants, though it is an Italian festival. It says a lot about Girard that family tradition means so much."