Local Jewish, Palestinian communities weigh in on ongoing conflict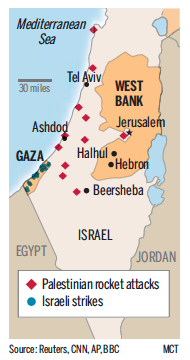 ---
YOUNGSTOWN
As another day of shelling in Gaza killed four children in ongoing conflict between the Israeli military and Hamas, leaders of the Valley πs Jewish and Palestinian communities were divided on an acceptable solution to the decades-old conflict.
Hanna Kassis, 28, a Palestinian-American who represents the Arab- American Community Center of Youngstown, said that many members of the Palestinian community, both in the Valley and in Palestine, no longer care about official recognition of a Palestinian state and instead seek better treatment from the Israeli government.
"Regardless of what it's called, regardless of what the flag looks like, regardless of what religion the people are, regardless of where they're from or what they believe in, we don't care," Kassis said. "All we want is humanity and for civil rights to prevail."
Kassis said that many Palestinians of his generation are coming around to the idea of a one-state solution, in which Palestinians would be integrated into Israeli society.
But Bonnie Burdman, spokeswoman for the Youngstown Area Jewish Federation, disagreed, saying that a two-state solution is the only acceptable outcome. The ideal solution is "A free Palestine, living side-by-side next to a fully recognized Jewish state of Israel, with a Palestinian state not compromised by terror," she said.
"Anything short of that does a disservice not just to the Israelis living in the region, but all citizens of the region, including Palestinians," Burdman said.
Elad Strohmayer, deputy consul general to the mid-Atlantic region for the Israeli government, agreed, saying a two-state solution is the only answer because of the hard line taken by Hamas.
"They need to recognize that we're here to stay. Hamas doesn't recognize that," Strohmayer said.
Burdman's comments focused mainly on Israel's right to defend itself against attacks from Hamas.
According to Kassis, however, at the heart of the issue is the occupation of the West Bank by Israeli settlers. Kassis has dozens of family members who live in the West Bank, and said they face discrimination and danger at the hands of Israeli soldiers and settlers on a daily basis.
"It's not a land war anymore, like people think. People think it's turf war. That's 20th century. It's a civil- and human-rights war. That's what the Palestinians want," Kassis said.
"A lot of young Palestinians in Palestine are saying, 'You know what, Israel, after 66 years, you can have the water, you can have the land, you can have our beaches, you can have Jerusalem, you can have the food, you can have our swear words,'" Kassis said.
"But we come with it all. That's the mentality that's starting to prevail in Palestine. You can have it all, but we come with it."
Strohmayer said, however, "Any human-rights concerns in Gaza or the West Bank is because of Hamas firing rockets indiscriminately toward Israel."
Kassis said that while personal relationships between Jews and Arabs in the Valley are congenial, members of the Jewish establishment here have not responded to attempts at a more-open dialogue between the two communities.
"The Arab community here has consistently called upon the Jewish Community Center to recognize human and civil rights for all Israelis and all Palestinians," Kassis said.
"We've invited them to debate us. They refuse. We have sent them open invitations to join hands, we've had cultural nights — they've refused to show up."
Burdman said that while the two communities do not agree on the Israel-Palestine conflict, there is a good rapport between the local Jewish and Arab communities.